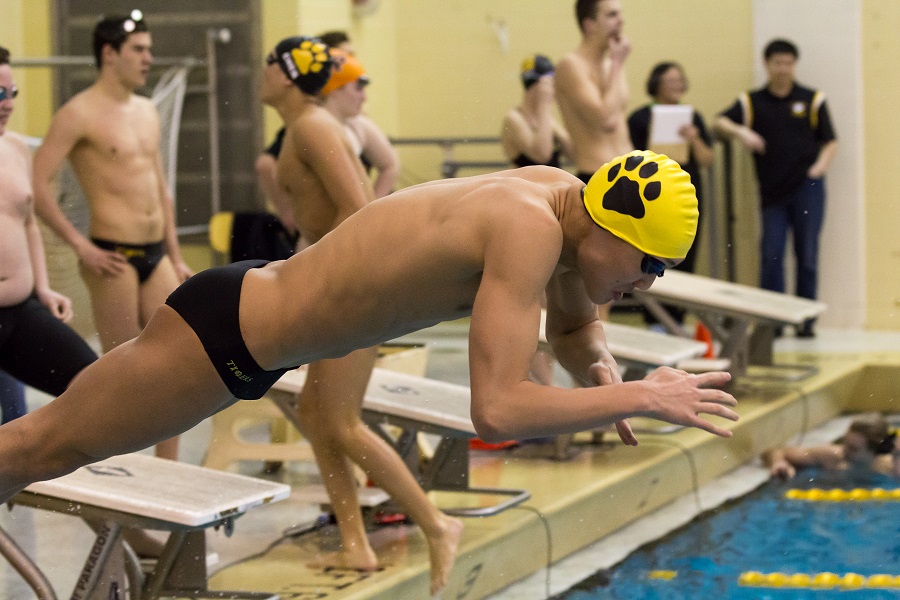 Tigers Cruise Past Bethel Park
North Allegheny easily outdistanced an out-manned Bethel Park team winning 99 – 79 for the girls and 62 – 42 for the boys.  The boys team won all the events while the girls team won all event except the 200 IM and 100 Breast.
The girls won all 3 relay events in convincing fashion.  The team of Kristine Mihm, Torie Buerger, Olivia Kisow and Lila McGrath won the 200 Medley Relay by a comfortable 5 second margin.  Torie Buerger, Lila McGrath, Sydney Monteparte and Quinn Frost had nearly a 10 second margin of victory over the nearest Bethel Park team in the 200 Free Relay.  Finally in the 400 Relay, Ann Juneau, Torie Buerger, Lila McGrath and Molly Smyers had nearly a 15 second cushion over the top Bethel Park finishing team.  In individual events Ann Juneau cruised to an easy win in the 200 Free.  Molly Smyers won the 50 Free and Lila McGrath won the 100 Fly.  Olivia Kisow won by a wide margin in both the 100 Free and the 100 Back. Mary Flavin won by a wide margin in the 500 Free.
On the boys side Bethel Park was greatly under manned. During several races there were no Bethel Park entrees and none of the events were closely contested.  Mason Gonzalez, Andrew Zhang, Jack Wright and Jacob McCarron won the 200 Medley Relay.  Matt Kuhn won the 200 Free, Joel Songer won the 200 IM and Andrew Zhang won the 50 Free.  Audric Pastor won the 100 Fly, John Ehling won the 100 Free and Mason Gonzalez won the 500 Free. Mason Gonzalez, Josh Galecki, Tolik Borisov and Alex Grahor won the 200 Free Relay.  Jack Wright won the 100 Back and Tim Compton won the 100 Breast.  Jack Wright, Rick Mihm, Jerry Chen and Patrick Upton finished the meet winning the 400 Free Relay.
Lucas Rodgers let fellow divers Dennis Knepp and Liam Cross in a sweep of the boys diving.  Maya Ennis led the girl divers with a 2nd place finish.
The team travels to Seneca Valley on Thursday, February 1st, for a sectional meet.  The meet begins at 6pm.