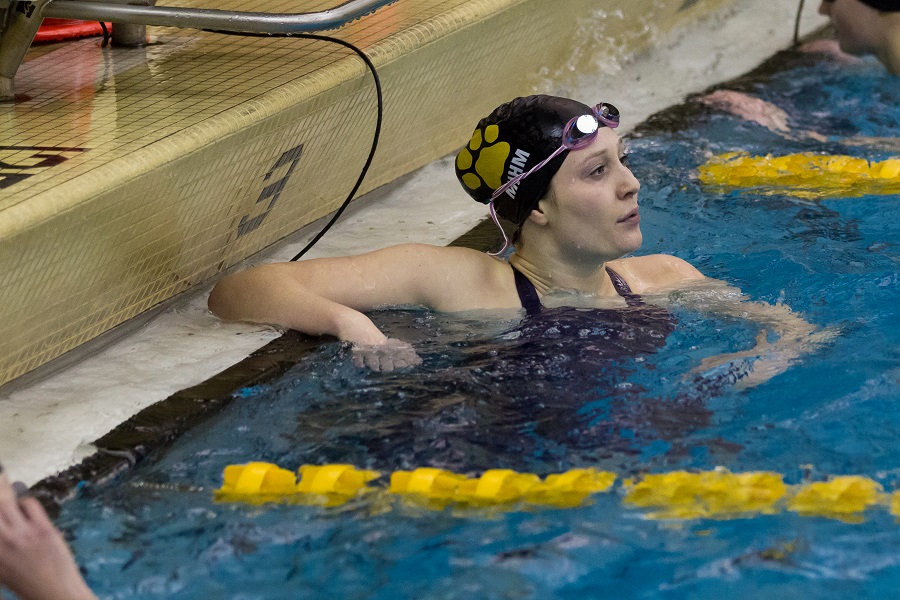 Tigers Cruise Past Shaler in Section Opener
The North Allegheny Swimming and Diving Teams opened sectional competition with a comfortable victory over Shaler Area High School.  The girls team won all relays and every individual event except the 50 Free and 100 Back in its 90 – 79 victory.  The boys team won all events while winning 96 – 63.
The 200 Medley Relay team of Molly Smyers, Haley Miller, Torie Buerger and Kristine Mihm started the girls team off with a convincing win.  Freshman Frost Quinn followed next with a sizeable win in the 200 Free.  Ann Juneau continued the string of impressive swims with her win in the 200 IM.  Freshman Molly Smyers continued her strong year with a win in the 100 Fly.  Torie Buerger won the 100 Free.  She then returned to the pool for an exciting swim with Lila McGrath in the 500 Free.  Lila and Torie swam stoke for stroke the entire 500 yards with Lila out touching Torie at the end.  Kristine Mihm, Ann Juneau, Olivia Kristow and Molly Smyers touched first in the 200 Free Relay.  Sydney Monteparte won the final individual event for the night with her 100 Breast win.  Mary Flavin, Emily Cuba, Kristine Mihm and Torie Buerger concluded the night for the girls team by winning the 400 Free Relay.
The boys team started with Tolik Borisov, Jacob McCarron, Tyler Tieppo and Andrew Zhang winning the 200 Medley Relay.  The win was quickly followed by RJ Swanson winning the 200 Free, Mason Gonzalez winning the 200 IM, Matt Turzai winning the 50 Free, Rick Mihm winning the 100 Fly, Audric Pastor winning the 100 Free and Andrew Zhang winning the 500 Free.  Rick Mihm, RJ Swanson, Jacob McCarron and Tolik Borisov cruised to a 200 Free Relay victory.  Patrick Upton and Ethan Song completed the sweep of individual events with their 100 Back and 100 Breast victories.  The night was closed when John Ehling, Josh Galecki, Alex Grahor and Matt Kuh won the 400 Free Relay.
The girls diving team were led by the trio of Jenna Edelmann, Brooke Ferringer and Olivia Schenk who finished 1, 2, 3 in the standings in their victory.  Dennis Knepp was the top diver for the boys team with his 1st place finish.
The swim team travels to Bucknell on Saturday, January 6th, for the Bucknell Invitational.  The meet begins at 10:30.