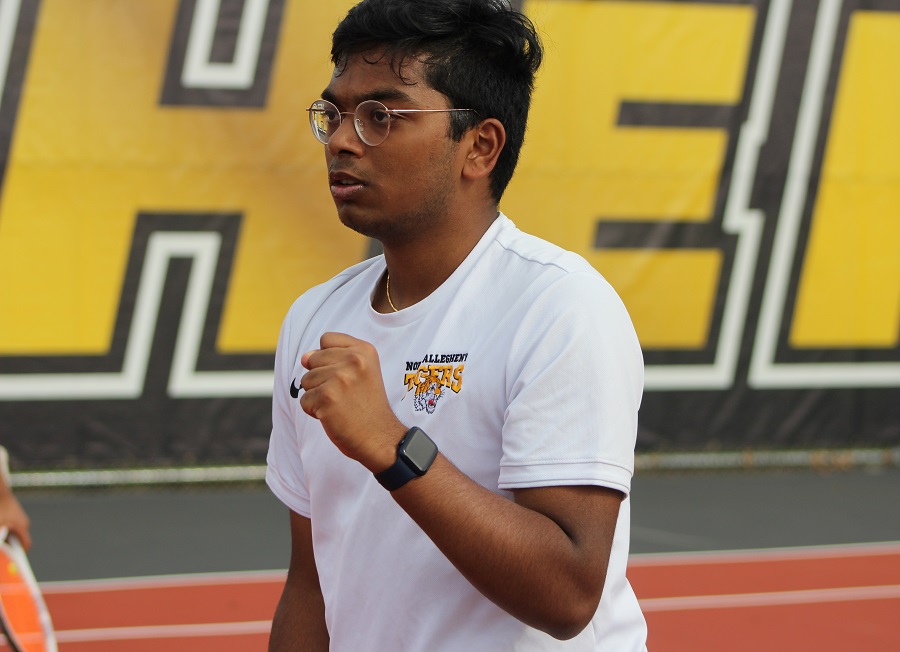 Tigers Defeat Defending WPIAL Champions, 3-2
Monday afternoon's cloudy skies and drizzle gave way to sunshine and calm, all leading up to a crystal clear NA victory over the defending WPIAL AAA champions, the Shady Side Bulldogs, 3-2.  The exhibition match on the NASH courts pitted two inter-sectional traditional rivals, and the competition did not disappoint.
The first team point came at number two singles where junior Manas Kathir controlled the pace with a straight set win over Sam Bitzer.  The Tiger ace, Trey Davidson, also regulated the tempo at one singles where he defeated Shady Side's top player, David Mnuskin, in straight sets.  While the Tigers fell in one doubles and three singles, the match came down to the number two doubles team of junior Sri Bellamkonda and senior Atharva Sumant.  In a tight first set they took a tie-break at 7-3 to claim the lead.  In the second set, they jumped out to a 3-0 lead and then saw Shady Side's duo of Romineni/Brunins climb back at 2-3.  After the changeover, the NA duo sandwiched two breaks with two service holds and clinched the match with a 6-2 win in the second set.
With the win, the NA Tigers now hold a 7-3 mark on the season.  They pause team play for several days as the Section 2 Singles Tournament begins Wednesday afternoon on the NASH courts at 12:00 PM. Representing the Tigers will be sophomore Trey Davidson and junior Manas Kathir.   Remember to check in with the North Allegheny Sports Network for results and updates.
Match Summary – 04/04/2022
North Allegheny 3, Shady Side Academy 2
Singles
#1  Trey Davidson (NA) def. David Mnuskin (SA) 6-2, 6-2
#2  Manas Kathir (NA) def. Sam Bitzer (SA) 6-3, 6-3
#3  Chase Hartman (SA) def. Amit Bhandari (NA) 7-6 (4), 6-3
Doubles
#1 Sal Chaudry/Tommy Certo def. Shomik Telang/Raj Ginde (NA) 6-3, 6-1
#2 Sri Bellamkonda/Atharva Sumant (NA) def. Siddarth Ramineni/Rob Brunins (SA) 7-6 (3), 6-2