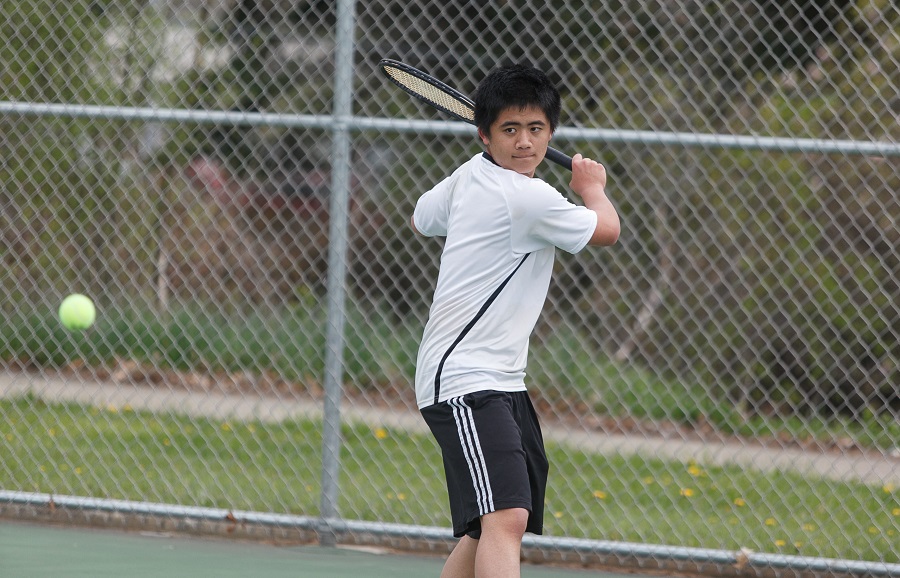 Tigers Defeat Franklin Regional in First Round of WPIAL Playoffs
The Tigers tennis squad started its 2015 WPIAL playoff journey with a home match in the first  round against Franklin Regional Wednesday afternoon and came away with a 5-0 victory over Coach Howard Fisher's talented Panthers. The first team point was delivered on the NASH courts by senior Eric Huang and junior Andrew Xu at number one doubles.  Sophomore Ryan Marczak and freshman Andrew Chuirazzi captured the second team point at number two doubles. 
Freshman Ivan Voinov clinched the match with a straight set victory at number three singles.  Freshman Richard Hofmann also took his match in straight sets, at number two singles.   Rounding out the scoring, junior Jared Isaacs found himself in a re-match against Rochan Ramesh, whom he had played last month in the WPIAL Singles Tournament.  The tenacious Isaacs prevailed again against the gifted sophomore.
Following completion of this first round win, the 10-1 Tigers will play the winner of Wednesday's Mt. Lebanon-Allderdice contest this Friday, in a quarterfinal match at a site and time to be determined.
Match Summary:  WPIAL AAA Team Championship, First Round (April 29)
NORTH ALLEGHENY—5 Franklin Regional—0
Singles
#1  Jared Isaacs (NA) def. Rochan Ramesh (FR)  6-3, 6-4
#2  Richard Hofmann (NA) def. Sean Vannatta (FR) 6-1, 6-1
#3  Ivan Voinov (NA) def. Connor Warwick  (FR) 6-2, 6-0
Doubles
#1  Andrew Xu/Eric Huang (NA) def. Ali Piracha/John Juozitis (FR)  6-0, 6-0
#2  Ryan Marczak/Andrew Chuirazzi (NA) def. Evan Markowitz/Jake Stackiewicz (FR) 6-0, 6-0