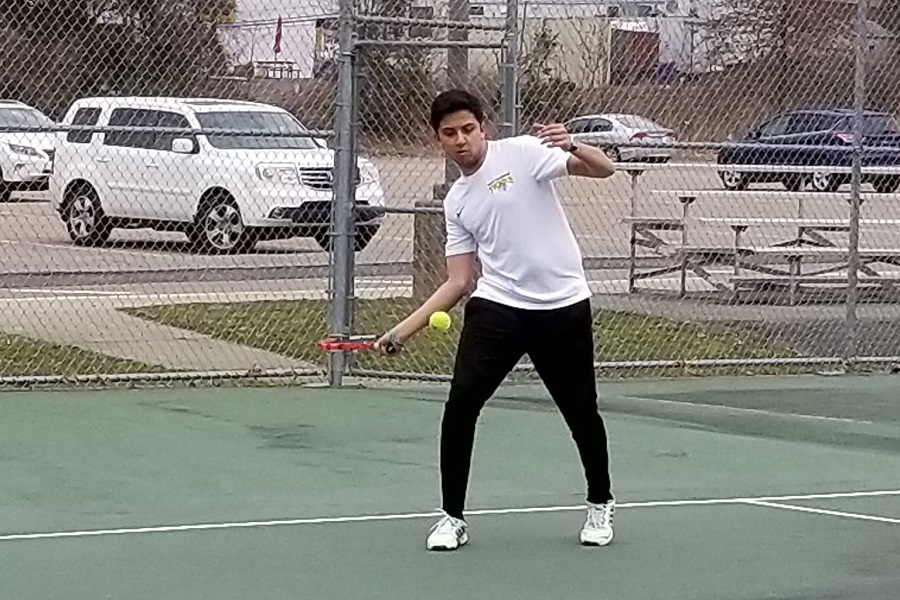 Tigers Defeat Mars in Section Contest
The Tigers hosted the Planets of Mars Area Wednesday afternoon and came away with a 5-0 sweep, with each match being decided in straight sets.
Using a modified lineup, the first Tigers' point came from the number two doubles combo of sophomore Krishna Naik and freshman Danny Lee.  Junior Ethan Vodovotz moved to the number two singles position and did not lose a game due to his consistent play.  Junior Sanjit Beriwal clinched the match with his second consecutive start at number three singles. Freshman Atharva Sumant and senior Rohan Cowlagi moved up to first doubles and took the fourth point.  Rounding out play was senior Soureesh Moturi in his second attempt at number one singles.  Playing Mars' talented freshman newcomer, Luke Raymondo, Moturi prevailed after a competitive first set.   The win moves the Tigers' record to 8-0 overall, including a 4-0 mark in Section 2 play.
The Tigers continue their intergalactic tour Thursday afternoon as they travel to Moon Area to take on their Tiger counterparts in another Section 2 matchup. The starting time is scheduled for 3:30 PM.
Match Summary – 04/03/19
North Allegheny—5 Mars Area– 0
Singles
#1 Soureesh Moturi (NA) def. Luke Raymundo (M) 6-3, 6-0
#2 Ethan Vodovotz (NA) def. Nick Ryan (M) 6-0, 6-0
#3 Sanjit Beriwal (NA) def. Paul Olsen (M) 6-2, 6-1
Doubles
#1 Atharva Sumant/Rohan Cowlagi (NA) def. Michael Crowley/Tim Jayamahun (M) 6-4, 6-0
#2 Krishna Naik/Danny Lee (NA) def. Nathan Skomo/Pat Clark (M) 6-0, 6-1