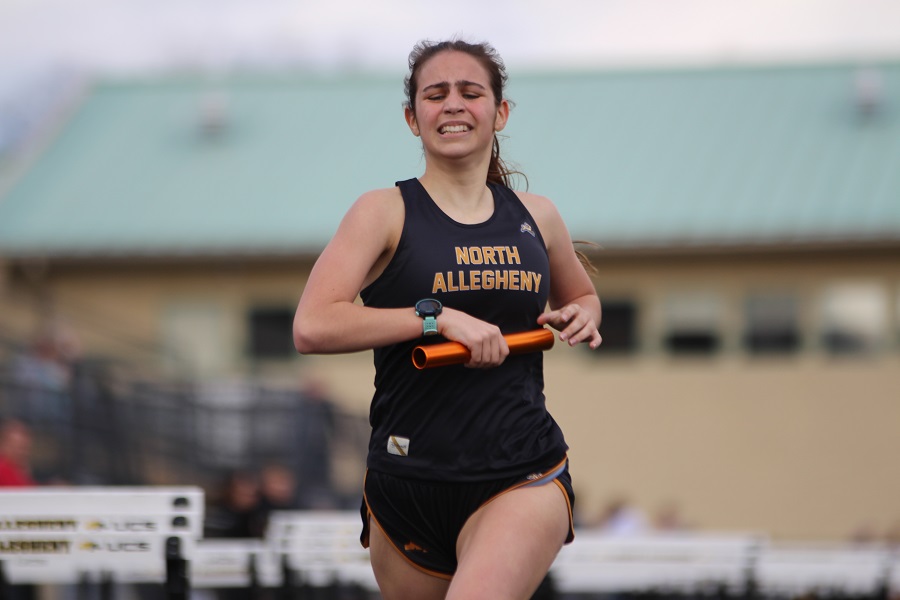 Tigers defeat Seneca Valley in first section showdown
The Tigers faced their first sectional rival of the season at Newman Stadium and before the rain set in, the NA Boys and Girls teams were able to secure their second win of the season as they defeated the Raiders of Seneca Valley.
The Lady Tigers won all but two of the individual events of the meet for a 125-25 victory. Outstanding performances came from Kena Shannon with winning performances in the 100m Dash, 300m Hurdles and was a leg of the winning 4x400m Relay.  Freshman Isabella Costa won the Long Jump and 400m Dash.  Senior Lola Akindele captured a win in the 200m Dash and helped contribute to the victory of the 4x100m Relay.  Field Event specialist Evelyn Wiethorn secured a winning throw in the Javelin and was able to place second overall in the High Jump.  Wren Kucler paced herself to victories in the 1600m and 3200m Runs while sister Robin Kucler sprinted to a victory in the 800m Run.  Both were legs of the winning 4x800m Relay.
Several of the Tigers will travel to Latrobe on Friday to compete in the Lady Spartan / Wildcat Invitational.