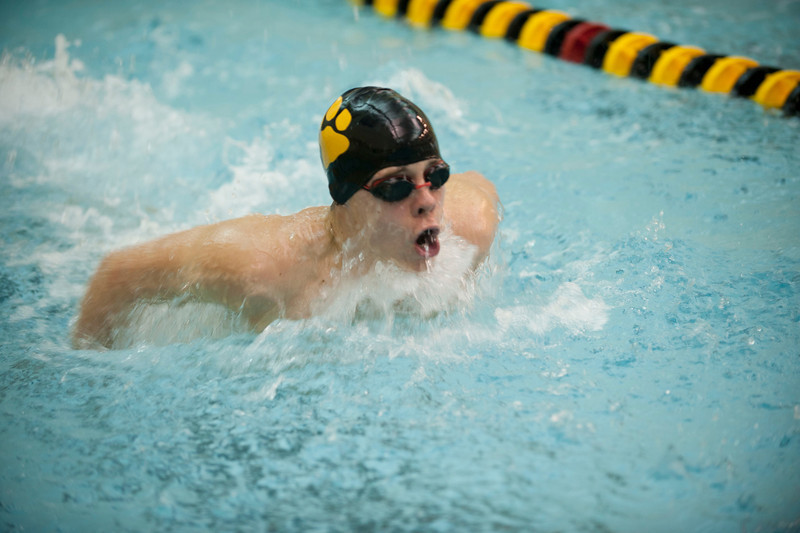 Tigers Douse Talbots
Thursday evening saw North Allegheny's Swimming and Diving teams displaying their team depth in the relay and individual events as they soaked the visiting Hampton Talbots in a WPIAL AAA Section 2 dual meet competition at the NASH pool.  The NA Girls cruised to a 101 – 77 victory and the NA Boys overwhelmed the Talbots by a score of 98 – 70. 
The Tigers Girls and Boys won every relay contest, placing 1-2-3 in several on the evening, while also having many of their younger swimmers score points in individual events to contribute to the winning totals. 
Strong events for the Tiger Girls included the 200 Yard Individual Medley where the Freshman trio of Lauren McGrath, Dani Torres, and Kennedy Urban finished in first, second, and fourth places.  McGrath clocked a winning time of 2:15.65 in the event.  The 50 Yard Freestyle sprint also included solid performances by the NA Girls, with Freshman Katie Davis, Sophomore Christine Sun, and Senior Abigail Rubio finishing in the second, third, and fourth places of that race. 
The Tiger Boys began their night's individual competition with a sweep of the 200 Yard Freestyle event with Junior sprinter Greg Arnold gutting out a winning time of 1:49.79, followed by Sophomore Colin MacDonald and Junior Peter Neal.  The NA Boys followed in the 200 Yard Individual Medley with Freshmen Brett Edwards, Thomas McCaffrey, and Stephen Wu touching in 1-2-3 order for a sweep of the event.  Edwards' winning time of 2:10.90 was also a personal best for him.  NA's Boys continued to show some of their depth while sweeping both the 100 Yard Butterfly and the 100 Yard Freestyle races.  In the Fly, Junior Max Staresinic touched first with a time of 56.14 seconds, followed by Senior Josh Tonti, and Junior Jake Krivacs.  In the 100 Freestyle, Senior Sam Rutan raced to a victory in 49.63 seconds, outpacing Freshman Eric Staab, and fellow Senior Gabe Gaspar.  MacDonald also won the Boys 100 Yard Backstroke in a time of 58.11 seconds. 
In the 500 Yard distance Freestyle races, it was Junior Kayla Churman touching in 5:24.88, edging Senior Kristen Bishop, while Junior Claire Washabaugh finished in third for the NA Girls.  The Boys side of this event was won by Junior Casey Melzer in 4:52.53 over teammates Arnold, and Sophomore Gage Halle. 
North Allegheny's Divers again had solid performances on the boards as Senior Hannah Geibel, Sophomore Eliza Gaber, and Senior Suzanne Gomes earned second, third, and fourth place showings for the Girls.  And Andrew Doerfler continued to leave no doubt he will be a top competitor at WPIALs as the Junior handily won the Boys Diving competition. 
The Tigers travel to Butler on Wednesday, January 15 to continue WPIAL AAA Section 2 competition against the Tornado in a meet starting at 6:00 PM at Butler Senior High School.