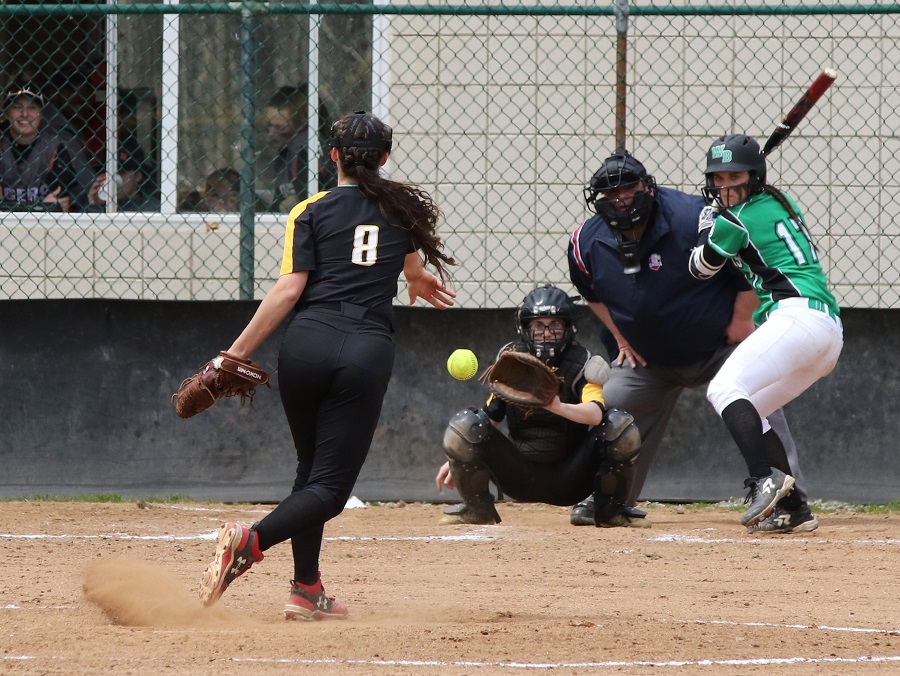 Tigers Drop Two at Toni Ross Memorial Event
In a day-long event sponsored by Howland (OH) High School, the North Allegheny Varsity Softball Team faced two highly-ranked Ohio teams and despite excellent pitching and defense, the bats were silenced by both Kelsey Byers of undefeated West Branch High School (OH) and Sheldon Wilber of Jefferson (OH) High School. The Tigers dropped a 3-0 decision to West Branch despite an outstanding pitching performance by junior Brooke Serbin, who limited West Branch to six hits and allowed only one earned run.  Byers limited the Tigers to just one hit to earn the shutout.
In the second Tiger game, North Allegheny fell to Jefferson by a 2-1 score. Ashley Adams took the loss for NA despite throwing a solid six-hitter. The Tigers scored their run in the top of the seventh inning on a home run to deep center field by freshman third baseman Chloe Szczepaniak to narrow the margin to 2-1. NA had runners on second and third later in the inning, but could not get the key hit to alter the result.
North Allegheny played well defensively to support the two stellar pitching efforts and had a day of experiencing high caliber opponents; the offensive productivity determined the results. The team also made donations of used softball equipment to support the day to honor a former Howland employee who left her mark on not only the Howland District, but also the community in which she served.
Softball vs. West Branch, 4-21-18
| Score by Innings | 1 | 2 | 3 | 4 | 5 | 6 | 7 | | R | H | E |
| --- | --- | --- | --- | --- | --- | --- | --- | --- | --- | --- | --- |
| North Allegheny | 0 | 0 | 0 | 0 | 0 | 0 | 0 | | 0 | 1 | 2 |
| West Branch | 0 | 3 | 0 | 0 | 0 | 0 | X | | 3 | 5 | 0 |
WP - Kelsey Byers LP - Brooke Serbin
---
Softball vs. Jefferson, 4-21-18
| Score by Innings | 1 | 2 | 3 | 4 | 5 | 6 | 7 | | R | H | E |
| --- | --- | --- | --- | --- | --- | --- | --- | --- | --- | --- | --- |
| North Allegheny | 0 | 0 | 0 | 0 | 0 | 0 | 1 | | 1 | 6 | 2 |
| Jefferson | 1 | 0 | 0 | 0 | 0 | 1 | X | | 2 | 6 | 1 |
WP - Sheldon Wilber LP - Ashley Adams