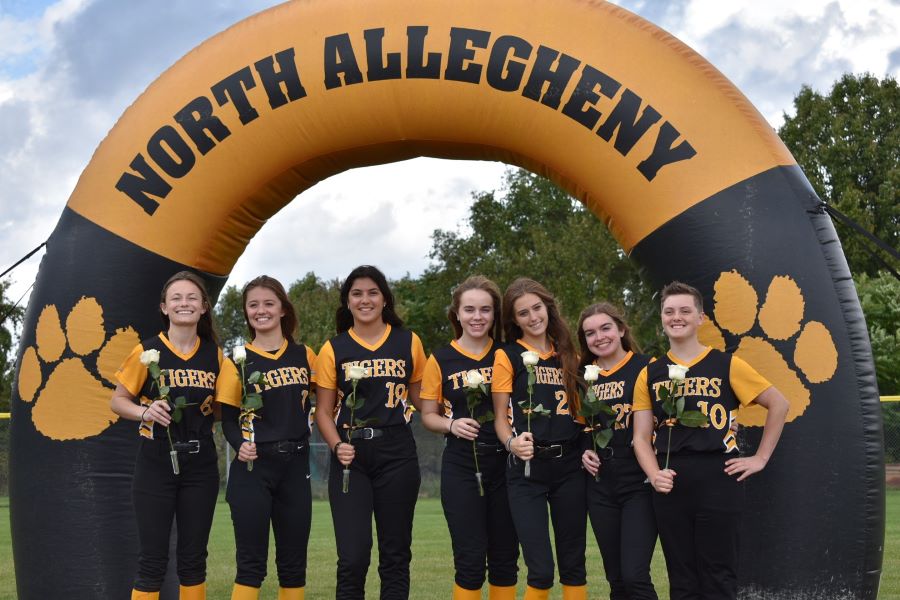 Tigers Earn Split On Senior Day
by Rob McKinney
On Sunday, the Tigers split a double header with their rivals, North Hills Indians.
North Hills won the first of the two games, 20-12, thanks to consistent offensive production and solid pitching from junior Jayden Stillwagon. North Hills opened with four runs in the first inning and only failed to score two runs or less in only two innings (fourth and seventh). North Allegheny had a slow start to the game but its offensive production picked up in the fourth inning. Tigers junior Jayna Cole tallied three hits and one walk in four at bats. NA senior Archie Treater went 2-for-4 and notched three RBI's in the game one loss. The best performance came from the Wright Automotive Player of the Game, senior Helen Katyal. Katyal finished 3-for-3 with two inside the park homeruns, four RBI's and a walk. The offensive output was too little, too late but gave the Tigers momentum heading into the second game.
North Allegheny took control early in the second of two games on Sunday with strong pitching and sound defense. The Tigers bested the Indians by a score of 11-1. Most of the offensive output for the Tigers came from the Wright Automotive Player of the Game, junior Reilly Spitz. Spitz finished 4-for-4, four RBI's, three runs scored and was a homerun shy of the cycle. Other notable offensive performances came from senior Riley Yates (3-for-4 and 3 RBI's) and Cole (2-for-4 and two runs scored). Although the offense was consistent, it was the pitching and defense that steered the Tigers to victory. Senior Nina Pietrzak had a strong day on the mound pitching all seven innings. Defensively, the Tigers limited errors and had timely catches from Katyal in left center.
The next games for North Allegheny will be a double header on Monday at Bethel Park.