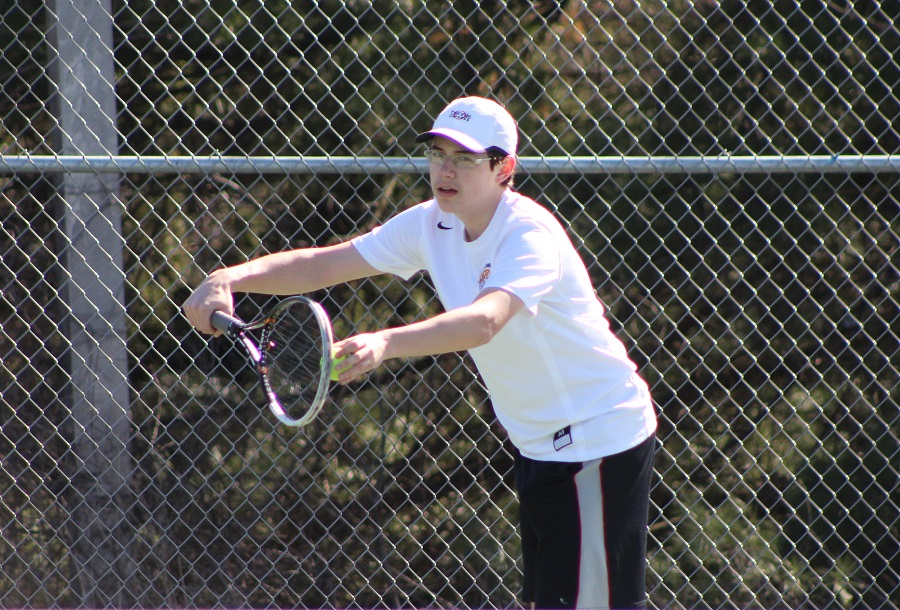 Tigers Eclipse Moon With 4-1 Section Win
The NA Tigers traveled to Moon Township Monday afternoon to tangle with their western suburban Tiger counterparts and came away with a key 4-1 win in Section 2 competition. Three of the four team points came in straight set victories as both teams dodged raindrops in order to complete the match.
The first team point came via number one doubles, as sophomores Mark Chuirazzi and Jerry Huang dominated their opponents.  The second NA point was delivered by the number two doubles combo of Reed Stasko and Ethan Schenk, also in an assertive performance.  The singles matches that followed offered both drama and stellar play.  Junior Richard Hofmann fought valiantly at number one singles before falling to the talented Logan D'Angelo.  All eyes then turned to the number three singles match where an incredible comeback was fashioned.  Junior Andrew Chuirazzi took his first set against Avant Shetty 6-2.  Down 2-5 in the second set, he did not lose another game.  Three service breaks and two service holds later, he clinched the match for North Allegheny by taking the second set 7-5.  Just moments after Chuirazzi's heroics, junior Ivan Voinov shrugged off a first set loss to Nick Magnelli to even the match with a 7-5 second set win.  Voinov then took his match in a 3rd set tie break.
With the win, the Tigers raised their record to 5-4 on the season and 4-0 in section play. They travel to Erie, PA, Tuesday afternoon to take on the Ramblers of Erie-Cathedral Prep.  The match will be played indoors at the Westwood Racquet Club, with match time scheduled for 4:00 PM.
Match Summary – 04/03/2017
North Allegheny—4, Moon Area–1
Singles
#1  Logan D'Angelo (M) def. Richard Hofmann (NA) 6-3, 6-2
#2  Ivan Voinov (NA) def. Nick Magnelli (M)  4-6, 7-5, 7-6 (3)
#3  Andrew Chuirazzi  (NA) def. Avant Shetty (M) 6-2, 7-5
Doubles #
1  Mark Chuirazzi/Jerry Huang (NA) def. Jaron Skow/Garrett Ley (M) 6-2, 6-1
#2  Reed Stasko/ Ethan Schenk(NA) def. Rushmin Khazanchi/Akshay Anand (M) 6-3, 6-2