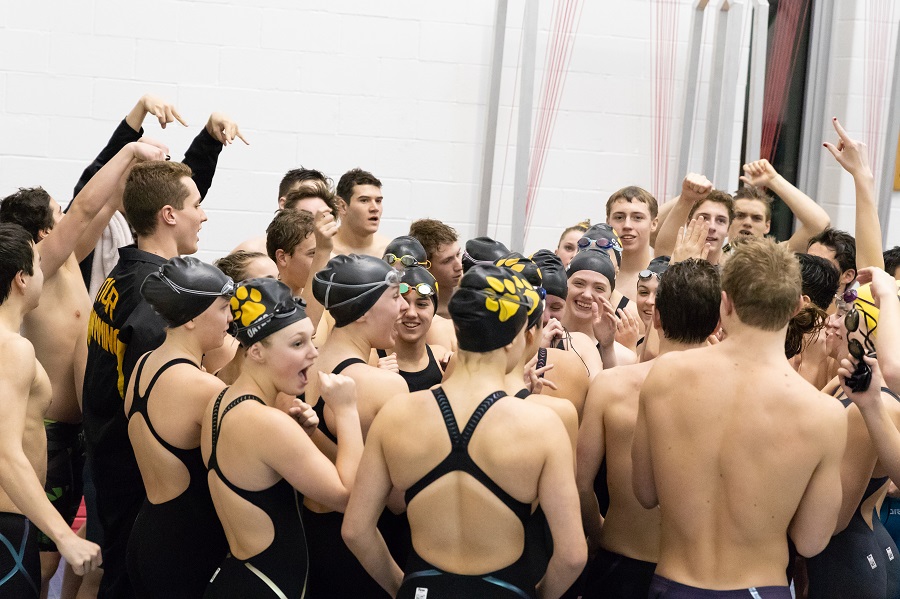 Tigers Edge Blue Devils For Sweep
With the meet tied 86 – 86 the North Allegheny girls needed to win the 400 Free Relay to keep their years of dual meet win streak alive.  The team of Molly Smyers, Lila McGrath, Olivia Kisow and Torie Buerger delivered with a first place finish and the team of Olivia Kraus, Isabella Dietz, Halley Miller and Quinn Frost finalized the results with their third place finish.  The girls final score was a close 96 – 90 for North Allegheny. The NA boys swam to a 96 – 80 victory.

Buerger led the girls team setting pool records in the 200 IM and the 100 Back.  She broke the 200 IM record with a time of 2:01.59 which was nearly three seconds faster than the previous record.  Her time of 55.68 in the 100 Back broke her own previous pool record of 55.86. Smyers finished a close second in both the 200 Freestyle and the 100 Freestyle.  Kisow won the 500 Free followed closely by Kara Mihm. McGrath finished second in the 100 Fly.

The boys were led by Ricky Mihm who set pool records in the 200 Free and the 500 Free.  His time of 4:27.70 in the 500 Free bettered the previous pool record by nearly 9 seconds.  Ethan Song won the 200 IM with Richard Jensen finishing a close second. Josh Galecki won the 50 Free and Jerry Chen won the 100 Fly.  Branko Kosanovich won the 100 Free and the 100 Back. The 100 Breast was won by Alex Grahor with Audric Pastor close behind. The boys won all three relays.  Micah Phillips, Chen, RJ Swanson and Galecki won the 200 Medley Relay. John Ehling, Chen, Jacob McCarran and Ricky Mihm won the 200 Free Relay while McCarran, Chen, Ehling and Galecki won the 400 Free Relay.

Maya Ennis and Alex Kmetyk finished first and second to lead the girl divers.  Dennis Knepp and Lucas Rodgers finished second and third for the boy divers.

The next meet is Tuesday against rival Upper St. Clair.  The meet starts with diving at 6 p.m. and it is Alumni Night.