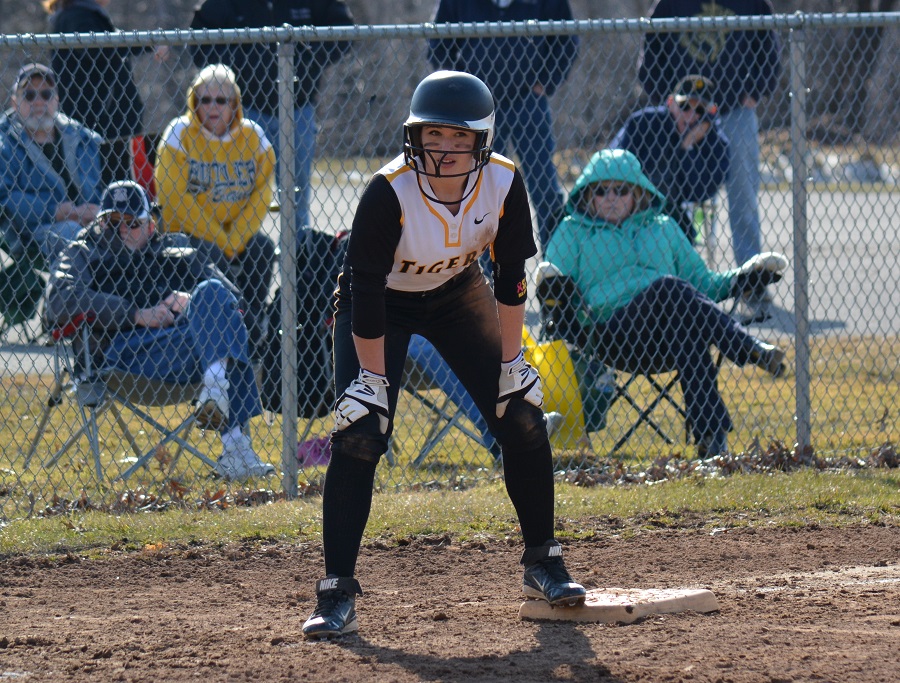 Tigers Edge Titans
The North Allegheny Varsity Softball Team took on the top-rated Shaler Area Titans at NASH Field and came away with a 3-1 victory.  The Tigers were led offensively by junior catcher Liz Scherer, who had a three-for-three night at the plate, driving in all three Tiger runs, and also making a tag at home plate for the final out of the game after receiving a strong throw from Tiger senior right fielder Anna Sardon.  Junior pitcher Madi Beining picked up her fourth win of the season by scattering five hits and striking out three in going the distance.
North Allegheny put together a ten-hit attack, scoring one run in the first and two in the fifth. Shaler plated its only run in the top of the seventh with one out, but the Tigers rose to the occasion and prevented any further Titan scoring.
With the win, North Allegheny raises its record to 4-0 in both Section 3 AAAA play and overall.  The Tigers will next see action on Tuesday evening at NASH Field when the host the Moon Tigers.  Game time is set for 7:00 PM.
Line Score NA Softball vs. Shaler 4/13/15
| Score by Innings | 1 | 2 | 3 | 4 | 5 | 6 | 7 | | R | H | E |
| --- | --- | --- | --- | --- | --- | --- | --- | --- | --- | --- | --- |
| Shaler | 0 | 0 | 0 | 0 | 0 | 0 | 1 | | 1 | 5 | 2 |
| North Allegheny | 1 | 0 | 0 | 0 | 2 | 0 | 0 | | 3 | 10 | 1 |
WP - Madi Beining LP - A.J. Nichols