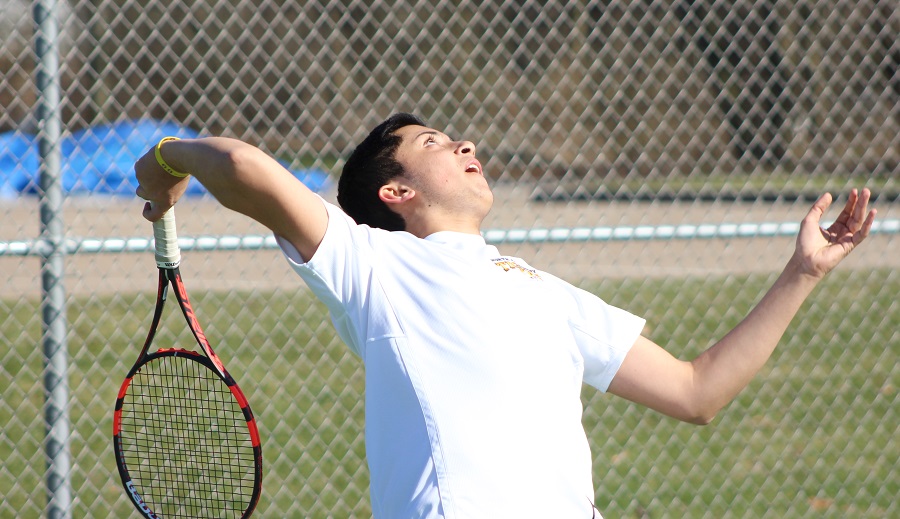 Tigers Extend Section Win Streak With 5-0 Victory Over Mars
The Tigers welcomed the Mars Planets to the NASH courts Wednesday afternoon and walked away with another Section 2 win, this one by a 5-0 score. Four of the wins came in straight sets and the lone three set match was a stellar performance, as the Tigers utilized a modified lineup in the contest.
The first team point came via number two doubles, as sophomores Soureesh Moturi and Rohan Cowlagi swept their opponents without losing a game.  The second NA point was delivered by the number one doubles team of junior Ethan Schenk and senior Anmol Anand, also in straight sets.  The clinching point was provided by the racket of sophomore Mark Chuirazzi, playing at number two singles instead of his customary doubles slot.  He also beat his opponent in two sets.  Chuirazzi's doubles partner, sophomore Jerry Huang, delivered a solid performance at number three singles.  The key match of the day developed when junior Andrew Chuirazzi played from the number one singles position for the first time in his career to tangle with Mars' ace, Drew Ellis.  Chuirazzi dropped the first set 1-6 but bounced back to take the second at 6-3.  The third set was resolved in a tie break, which Chuirazzi controlled from the start against the talented Ellis.
With the win, the Tigers raised their record to 6-5 on the season and 5-0 in section play. They travel to Upper St. Clair Thursday afternoon to take on the Panthers from Section 4 in an important exhibition.  The match will be played at the USC Municipal Courts, with a starting time scheduled for 3:30 PM.
Match Summary – 04/05/2017
North Allegheny—5, Mars–0
Singles
#1  Andrew Chuirazzi (NA) def. Drew Ellis (M) 1-6, 6-3, 7-6 (5)
#2  Mark Chuirazzi (NA) def. Zack Greene (M)  6-1, 6-1
#3  Jerry Huang  (NA) def. Nick Ryan (M) 6-1, 6-1
Doubles
#1  Ethan Schenk/Anmol Anand (NA) def. Graham Shano/Nathan Walker (M) 6-1, 6-0
#2  Soureesh Moturi/Rohan Cowlagi (NA) def. Michael Crowley/Jack Kapros (M) 6-0, 6-0