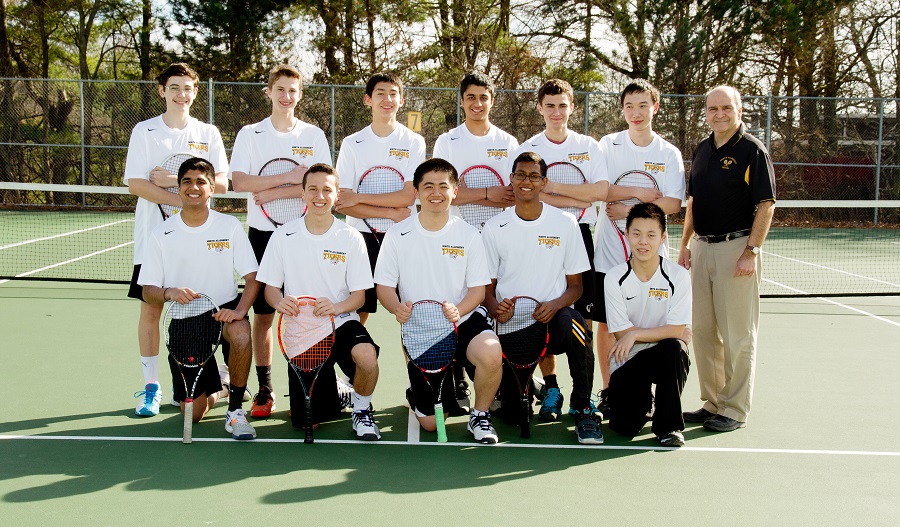 Tigers Fall in Quarterfinals of PIAA Championship to Lower Merion
On the road at the Hershey Racquet Club early Friday morning, the 8th seeded Tigers challenged the #1 seed and defending State Champion, Lower Merion, in the PIAA quarterfinal round.  When the balls stopped bouncing, the Aces defeated the Tigers 5-0 to move on to Saturday's AAA semi-finals.  The young Tigers squad, making their first return trip to Hershey in three years, put up a fight but could not come up with a winning combination at any of the slots.  The Tigers' 2016 season concludes with an overall 18-3 mark.
On the campaign North Allegheny reached the WPIAL Playoffs for the 34st time in the last 35 years.  The Tigers also regained the Section 2 championship and finished as the WPIAL runner-up.  They enjoyed the long journey of the 2016 season and look forward to the challenges that will arrive in 2017.  As team play concludes, senior Jared Isaacs and sophomore Richard Hofmann look to defend their PIAA-AAA Doubles Championship in Hershey next week.  Play begins Friday, the 27th at 10:30 AM.
Match Summary
PIAA Championship-Quarterfinal Round (5/20/16) in Hershey, PA
Lower Merion-5 North Allegheny-0
Singles
#1  Matthew Chen (LM) def. Jared Isaacs (NA)  3-6, 7-6 (8), 7-6 (5)
#2  Thibault Vernier (LM) def. Richard Hofmann (NA) 6-3, 6-0
#3  Sean Attebery (LM) def. Ivan Voinov (NA) 6-3, 6-2
Doubles
#1  Lucas Kreutzer/Will Rieke (LM) def. Andrew Chuirazzi/Ethan Schenk  (NA) 6-1, 6-0  
#2 Jared Robinson/Simon Sheintoch (LM) def. Mark Chuirazzi/Jerry Huang (NA) 6-1, 6-3