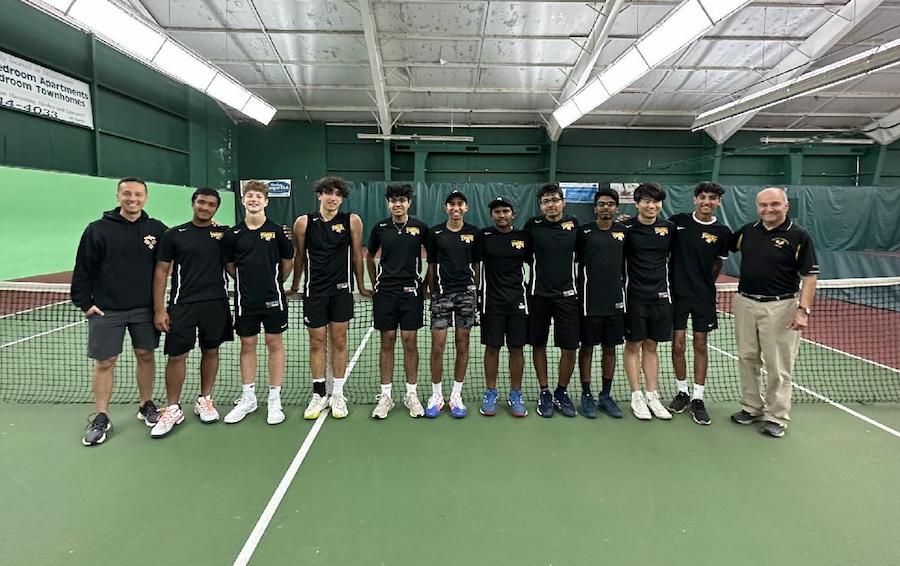 Tigers Fall Short in PIAA Quarterfinals in Hershey
After advancing from the first round of the 3A playoffs earlier in the week, the Tigers traveled to Hershey for a Friday afternoon encounter with the defending PIAA champions, Lower Merion.  True to their mascot's renowned tenacity, the first-seeded Bulldogs came ready to play and ended the Tigers season by a 3-0 score.
The Tigers were represented by freshmen Shaun Fernando and Evan Kaufman at one and two singles respectively.  Sophomore Sri Thirumala manned third singles.  The junior duo of Amit Bhandari and UT Tiwari held down first doubles while the freshmen tandem of Matt Kampi and Adhav Ramadas represented the Tigers at second doubles.  The reserve unit of juniors Adithya R. Guptha and Jeongwoo Cheon, joined by sophomore Nitin Gupta, rounded out the active roster.  All 10 of the active roster players contributed to the team's success.
With the loss, the Tigers conclude their season with a 14-2 record, including a 13-1 mark in WPIAL play and a 1-1 record in PIAA play. It was a successful 2023 campaign for the young Tigers who look to utilize their newly found proficiency and experience for the 2024 season.  A special thank you is in order to the North Allegheny Athletics Office and the North Allegheny Sports Network for their commitment to the Boys' Tennis Program.
Match Summary – 05/19/2023
PIAA 3A Team Championship-Quarterfinal Round
Lower Merion 3, North Allegheny 0
Singles
#1 Brian Yi (LM) def. Shaun Fernando (NA) 6-0, 6-0
#2 Evan Kaufman (NA) vs. Mark Lancaster (LM) DNF
#3 Nathan Dolushev (LM) def. Sri Thirumala (NA) 6-1, 6-1
Doubles
#1 Stoyan Angelov/Hayden Masotti (LM) def. Amit Bhandari/Utkarsh Tiwari (NA) 6-1, 6-2
#2 Matt Kampi/Adhav Ramadas (NA) vs. David Liu/Charlie Bittinger (LM) DNF