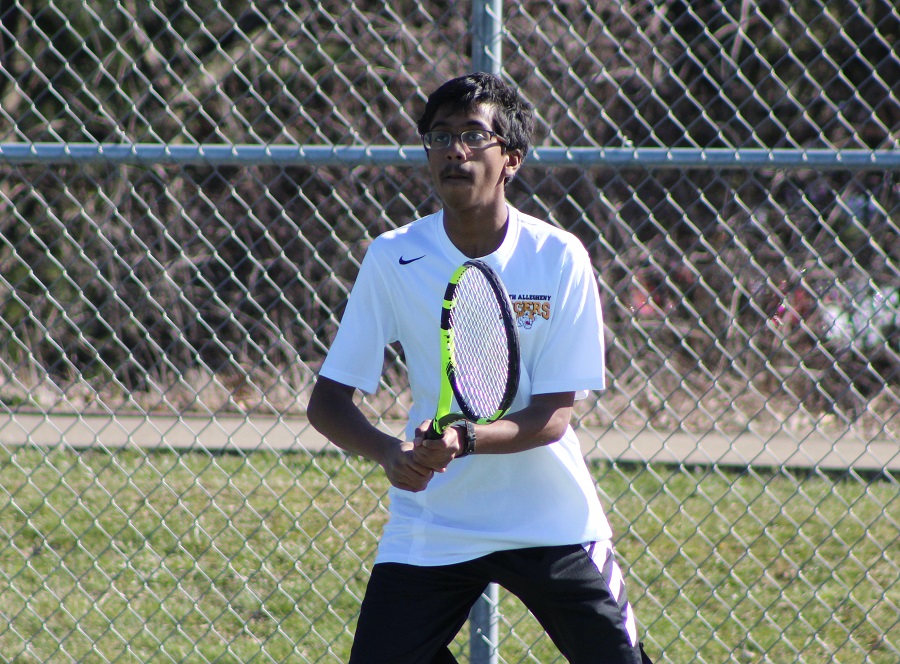 Tigers Fall to Erie Cathedral Prep in Exhibition Play
The Tigers traveled the Interstate 79 corridor to Erie, PA, Tuesday afternoon to renew their rivalry with Erie Cathedral Prep, a dominant team in PIAA's District 10.   Playing indoors at the Westwood Racquet Club, the Ramblers took the measure of the Tigers, 5-0, in an exhibition match.
A strong performance was turned in by the first doubles unit of sophomores Mark Chuirazzi and Jerry Huang, who fought valiantly but fell in a third set tie break to their counterparts.  Junior Richard Hofmann got off to a slow start at first singles against Joe DeMarco but turned his match into a flurry of power shots that nearly toppled his opponent.
With the loss, the Tigers even out at 5-5 on the season as they prepare to resume Section 2 action Wednesday afternoon at home against the Mars Planets. The match is scheduled for a 3:30 starting time on the NASH courts.
Match Summary – 04/04/2017
Cathedral Prep–5, North Allegheny—0
Singles
#1  Joe DeMarco (CP) def. Richard Hofmann (NA) 6-1, 7-5
#2  Matt DeMarco (CP) def. Ivan Voinov (NA) 6-1, 6-0
#3  Alec Thomas (CP) def. Andrew Chuirazzi  (NA) 6-1, 6-4
Doubles
#1  Jacob Labonte/David Estes (CP) def. Mark Chuirazzi/Jerry Huang (NA) 2-6, 6-4, 7-6 (6)
#2  Patrick Kelly/Jon Horstman (CP) def. Reed Stasko/Ethan Schenk (NA) 6-3,  6-4