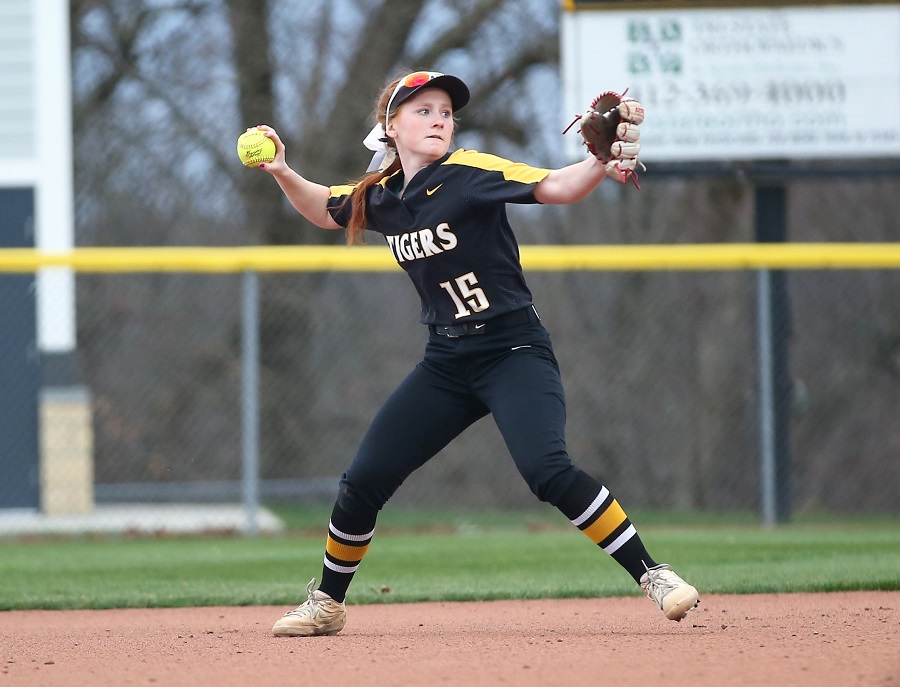 Tigers Fall to Pennsbury in PIAA Quarterfinals
The North Allegheny softball team dropped a 10-2 decision to Pennsbury in the PIAA Class 6A quarterfinals on Thursday afternoon at Messiah University in Mechanicsburg. In the first ever meeting between the two programs, the District 1 runners-up broke open a tight game with a five-run fifth inning to advance the state semifinals for the second consecutive season.
Pennsbury got off on the right foot in the second inning when sophomore Presley Foote drove in the game's first run with an RBI single and a 1-0 lead. Foote followed by stealing two bases and scored on a throwing error for a 2-0 advantage.
In the third inning, the Falcons increased their lead to 3-0 when Sam Raub singled home Colgate commit Rowan Mulholland.
The Tigers got back into the game in the bottom of the third thanks to two-out single by freshman McKenna Rowlands and a two-run homer by senior Alaina Whipkey to trim the deficit to 3-2. The majestic home run over the leftfield fence was Whipkey's eighth of the season and 18th of her career at North Allegheny. The Cal-U commit also had a sterling day defensively at shortstop, throwing out a runner at home plate in the first inning and assisting on a 6-3 double play later in the game. For her all-around efforts, Whipkey was named the Wright Automotive Player of the Game.
While the Whipkey home run pulled NA back into the game, the momentum was short-lived as Pennsbury answered back with a run in the top of the fourth on an RBI single by Foote and broke the game open with a five-run fifth inning for a 9-2 lead. The crooked number in the fifth inning was highlighted by a three-run inside-the-park home run by sophomore Ava Storlazzi. Pennsbury tacked on one more run in the seventh inning on an RBI double by Taylor Askey to bring the score its eventual final, 10-2.
Franklin & Marshall University commit, Ainsley McClure, tossed a complete game with seven strikeouts and no walks, allowing only two runs. North Allegheny sophomore Anne Melle went 4.1 innings and was saddled with the loss. Freshman Sammy Plotsko pitched 2.1 innings of relief and allowed just one run with one strikeout and no walks.
Pennsbury improves to 24-2 on the season and advances to the PIAA semifinals to face Seneca Valley on Monday. North Allegheny concludes its season with a 14-11 record. Congratulations to head coach Morgan Vescovi and the entire Tigers softball team for a memorable playoff run and season.
Box Score - Softball vs. Pennsbury - 06/09/2022
| Score by Innings | 1 | 2 | 3 | 4 | 5 | 6 | 7 | R | H | E |
| --- | --- | --- | --- | --- | --- | --- | --- | --- | --- | --- |
| Pennsbury | 0 | 2 | 1 | 1 | 5 | 0 | 1 | 10 | 13 | 1 |
| North Allegheny | 0 | 0 | 2 | 0 | 0 | 0 | 0 | 2 | 5 | 2 |
WP - Ainsley McClure LP - Anne Melle (11-7)