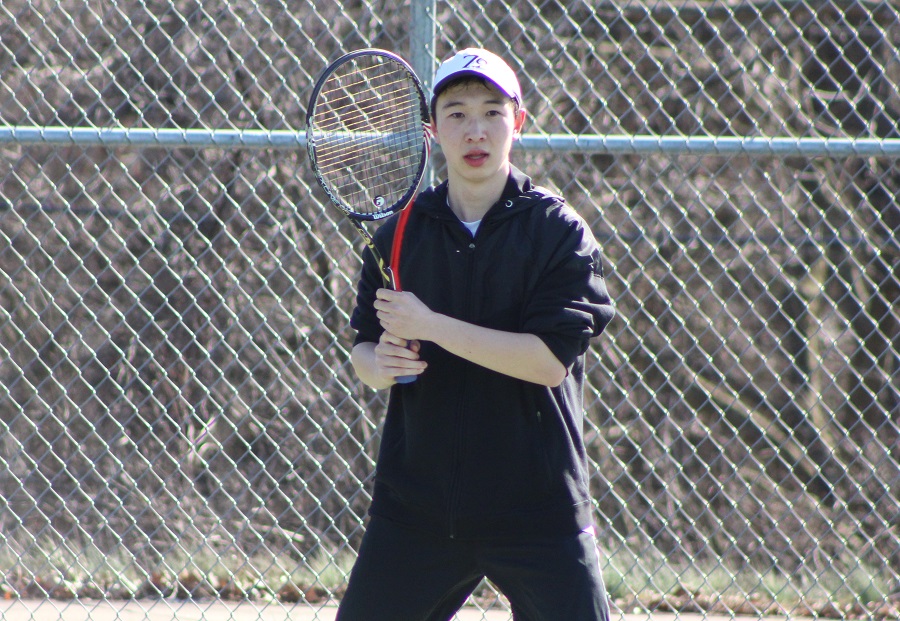 Tigers Gain Hard Earned Victory Over Moon, 4-1
The Tigers Tennis Squad resumed Section 2 play Tuesday afternoon, indoors at the Lakevue Racquet Club, taking on Moon Area High School. The Tigers proceeded to work past their West Hills rivals 4-1, in a match that featured strong play from both sides.
Leading the way at number one doubles, juniors Mark Chuirazzi and Jerry Huang defeated Garrett Ley and Brian Ruppel in straight sets.  The second team point came from senior Ivan Voinov, who used a booming serve to help defeat a very good Nick Magnelli at number two singles in straight sets.  Senior Richard Hoffman tangled with another Section 2 stalwart, Logan D'Angelo, who took control early and earned a team point for Moon.  With the Tigers holding the tenuous 2-1 lead, both the second doubles and third singles contests played out concurrently.  The number two doubles tandem of senior Reed Stasko and junior Soureesh Moturi pushed past Rushmin Khazanchi and Gautum Pulivarthi in straight sets to gain the third and match-clinching point for North Allegheny.  Not to be outdone, senior Andrew Chuirazzi played the most intense contest in the match against Moon's hard working Avant Shetty.  Dropping the first set at 3, Chuirazzi relied on pinpoint consistency to fashion an outstanding comeback, beating Shetty in the only three set contest of the day.
With the win, the Tigers raised their overall season record to 3-1, and 3-0 in Section 2. They return to action with exhibition play Wednesday afternoon as they host Hollidaysburg.  The starting time is scheduled for 3 PM at the Lakevue Racquet Club.
Match Summary – 04/03/2018
North Allegheny—4, Moon Area–1  
Singles
#1 Logan D' Angelo (MA) def. Richard Hofmann (NA) 6-1, 6-1
#2  Ivan Voinov (NA) def. Nick Magnelli (MA) 6-3 , 6-3
#3  Andrew Chuirazzi (NA) def. Avant Shetty (MA) 3-6, 6-3, 6-3
Doubles
#1 Mark Chuirazzi/Jerry Huang (NA)  def. Garrett Ley/Brian Ruppel (MA) 6-1, 6-2
#2  Reed Stasko/Soureesh Moturi (NA) def. Rushmin Khazanchi/Gautum Pulivarthi (MA) 6-2, 6-0