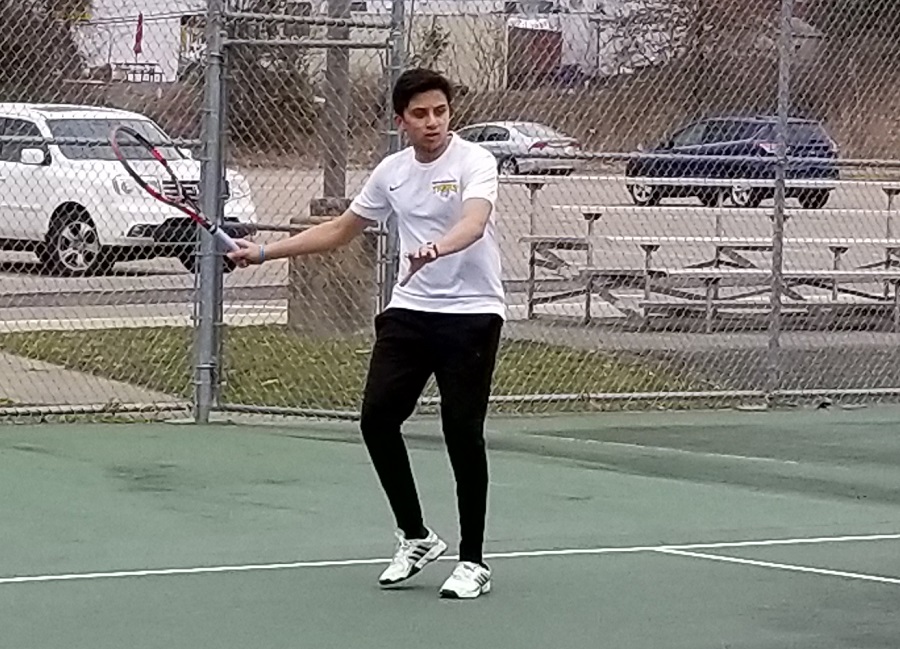 NA Halts Hampton 4-1 in Exhibition Match
In an exhibition contest against former Section 2 rival, the Hampton Talbots, the Tigers traveled to the Hampton Community Courts Thursday afternoon and came away with a 4-1 win. Under brilliant sunlit conditions, each of the Tigers' four points came in straight set wins.
Leading the way for the Tigers was junior Ethan Vodovotz at number three singles who beat Chris Ference. Seniors Mark Chuirazzi and Jerry Huang controlled first doubles by handling Peter Andrews and Alex Butch. The two doubles squadron of freshman Atharva Sumant and senior Rohan Cowlagi cruised by Joey Cafaro and David Butler. Senior Soureesh Moturi pushed past Peter Fung 6-0 in the first set and battled to a 7-5 decision in the second set to take the second singles match-up. Rounding out the competition, junior Ven Naik split sets against Abheet Badrinath before losing a third set tie break at the one singles position.
The win moves the Tigers' record to a 13-1 mark as the regular season draws closer to its conclusion. The team returns to action next Tuesday afternoon as they travel to Franklin Regional to take on the Panthers of Section 1 in an important exhibition. Match time is scheduled for 3:30 at the Franklin Regional Complex.
Match Summary – 04/18/19
North Allegheny—4 Hampton– 1
Singles
#1 Abheet Badrinath (H) def. Ven Naik (NA)5-7, 6-2, 7-6 (8)
#2 Soureesh Moturi (NA) def. Peter Fung (H) 6-0, 7-5
#3 Ethan Vodovotz (NA) def. Chris Ference (H) 6-1, 6-1
Doubles
#1 Mark Chuirazzi/Jerry Huang (NA) def. Peter Andrews/Alex Butch (H) 6-3, 6-3
#2 Atharva Sumant/Rohan Cowlagi (NA) def. Joey Cafaro/David Butler (H) 6-3, 6-1