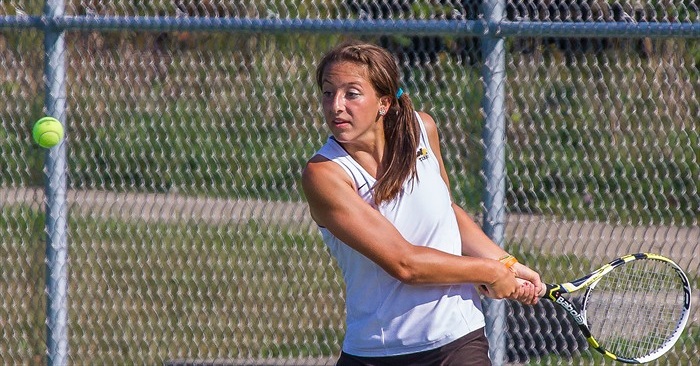 Tigers Halt Hampton In Section 2 Play
Finally outdoors on the NASH courts but under blustery conditions, the Tigers tangled with the Talbots Thursday afternoon and walked away with a 5-0 victory in Section 2 play over Hampton. 
The first team point came from the first doubles duo of senior Stephen Chuirazzi and junior Eric Huang in straight sets.  The second point was delivered by Jared Isaacs at number two singles, also in straight sets.  The clinching point was courtesy of sophomore Andrew Xu, in another straight set match, this one at 3rd singles.  After junior Michael Helkowski and sophomore Apoorv Anand completed their win at number two doubles, the stage was set for the feature match of the day. 
NA's senior and number one singles player, Kylie Isaacs, matched up in an epic dual with Hampton's very talented number one, Jonathan Harrison.  The seesaw battle saw two strong willed and outstanding competitors exchange incredible shots from beginning to end.  Harrison used his versatile shot selection to take the first set 6-4 and Isaacs countered with a 6-3 win in the second to even the score.  After falling behind 0-3 in the deciding 3rd set, Isaacs used an assortment of brilliant shots to storm back and take a 4-3 lead.  Both players held serve the rest of the way and Isaacs took the deciding set in front of cheering teammates and family. 
Moving to 6-0 on the young season and 5-0 in Section 2 play, the Tigers will travel to North Hills Friday afternoon to meet their arch rivals, the Indians.  The starting time for this road match is scheduled for 3:30 PM.
Match Summary (3/27/14)
NORTH ALLEGHENY—5   Hampton–0
Singles
#1  Kylie Isaacs (NA) def. Jonathan Harrison (H) 4-6, 6-3, 6-4
#2  Jared Isaacs (NA) def. Jung Bang (H) 6-1, 6-1
#3  Andrew Xu  (NA) def. Weston Banks (H) 6-0, 6-3
Doubles
#1  Stephen Chuirazzi/Eric Huang (NA) def. Henry Wehling/Cam Raidna (H) 6-1, 6-1
#2  Michael Helkowski/Apoorv Anand (NA) def.  Nico Nigro/Nick Manoon (H) 6-3, 6-1