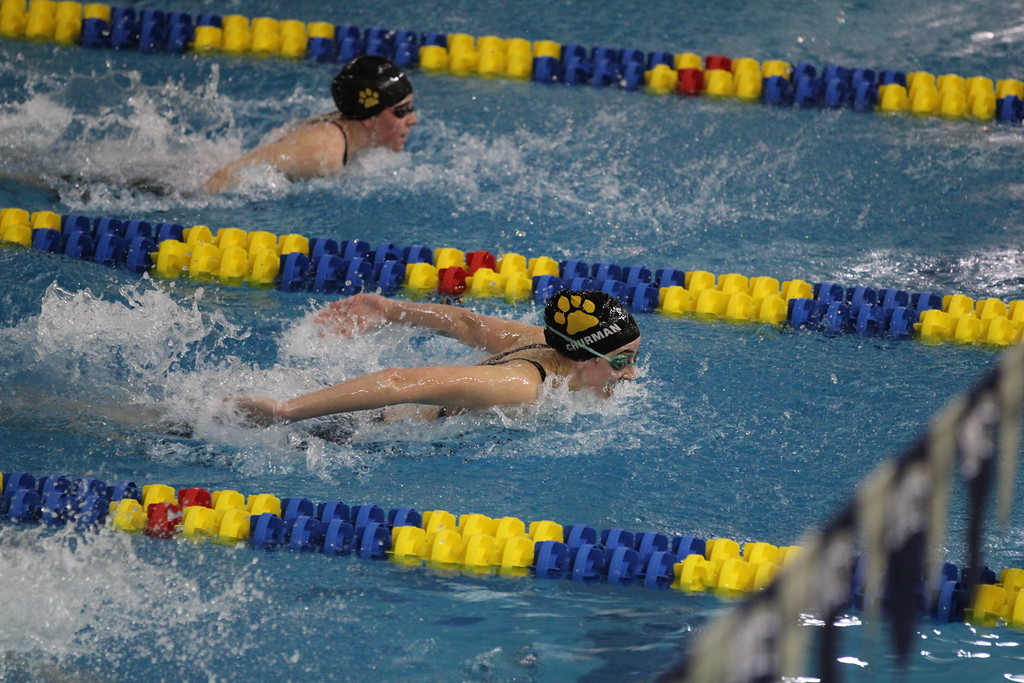 Tigers In Pole Position After Day One Of WPIAL Championships
Article Courtesy of MSA Sports
The North Allegheny Tigers picked up where they left off in their dominance over the last several years as the Lady Tigers commanded a huge lead after day one of the WPIAL AAA Swimming Championships.  The North Allegheny boys don't have nearly the dominant lead but still have the advantage going into day two.  On the afternoon, there were several WPIAL records that fell.
On the girls' side of the ledger, North Allegheny's group of Jacquelyn Du, Erin Kuhn, Kayla Churman and Maggie Root took gold and broke their own WPIAL record from last year by swimming to a time of 1:42.56 in the 200 Yard Medley Relay.  The Lady Tigers would also take gold and set another WPIAL record in the 200 Yard Freestyle Relay as Morgan Soulia, Lauren McGrath, Katie Wright and Du swam a time of 1:33.76 which beat the previous record (North Allegheny in 2013) by over a second.
On the day, six WPIAL records were broken in the twelve events that took place on Friday.
GIRLS TEAM STANDINGS THROUGH FRIDAY:
North Allegheny 318
Upper St. Clair 133.5
Mt. Lebanon 120
Franklin Regional 88
West Allegheny 65
Girls 200 Yard Medley Relay:
North Allegheny 1:42.56 WPIAL Record
Upper St. Clair
Oakland Catholic
Norwin
Hempfield
Girls 200 Yard Freestyle:
Lauren McGrath, North Allegheny 1:49.80
Morgan Soulia, North Allegheny
Monica Sowinski, Latrobe
Charlie Brickner, North Allegheny
Hannah Bumgarner, Mt. Lebanon
Girls 200 Yard IM:
Kathryn Painter, Norwin 2:03.01
Ann Juneau, North Allegheny
Gianna Caputo, North Allegheny
Peyton Kondis, Oakland Catholic
 Victoria Shaffer, Upper St. Clair
Girls 50 Yard Freestyle:
Jacqueline Du, North Allegheny 23.26
Kathryn Nicholson, Mt. Lebanon
Katie Wright, North Allegheny
Angela Gyurina, Mt. Lebanon
Maggie Root, North Allegheny
Girls 100 Yard Butterfly:
Kayla Churman, North Allegheny 55.54
Maggie Root, North Allegheny
Morgan Birdy, Franklin Regional
Stephanie Sipple, Penn Hills
Erin Kehm, North Allegheny
Girls 200 Yard Freestyle Relay:
North Allegheny 1:33.76 WPIAL Record
Upper St. Clair
Mt. Lebanon
Franklin Regional
Penn Trafford
BOYS TEAM STANDINGS THROUGH FRIDAY:
North Allegheny 230 2.
Upper St. Clair 215 3.
Mt. Lebanon 151
4. Franklin Regional 110
T-5. Penn Trafford 61
T-5. Peters Township 61
Boys 200 Yard Medley Relay:
Upper St. Clair 1:30.32 WPIAL Record
North Allegheny
Mt. Lebanon
Penn Hills
 Pittsburgh Central Catholic
Boys 200 Yard Freestyle:
Brian Lovasik, North Hills 1:38.89 WPIAL Record
Mason Gonzalez, North Allegheny
Eben Krigger, North Allegheny
Drew Damich, Chartiers Valley
Noah Cagley, Fox Chapel
Boys 200 Yard IM:
Fynn Minuth, Upper St. Clair 1:49.83
Casey Melzer, North Allegheny
Tyler Stevenson, Franklin Regional
Kevin Liu, Upper St. Clair
Max Gonzalez, North Allegheny
Boys 50 Yard Freestyle:
Norman Gregory, Penn Hills 21.07
Nolan Pepka, Kiski
Tomos Williams, Upper St. Clair
Patrick Lersch, Upper St. Clair
Daniel Songer, North Allegheny
Boys 100 Yard Butterfly:
Ryan Dudzinski, Upper St. Clair 47.93 WPIAL Record
Andrei Mihailescu, Mt. Lebanon
Jake Johnson, Upper St. Clair
Greg Arnold, North Allegheny
Noah Wechter, Mt. Lebanon
Boys 200 Yard Freestyle Relay:
Upper St. Clair 1:23.28 WPIAL Record
North Allegheny
Franklin Regional
Mt. Lebanon
North Hills