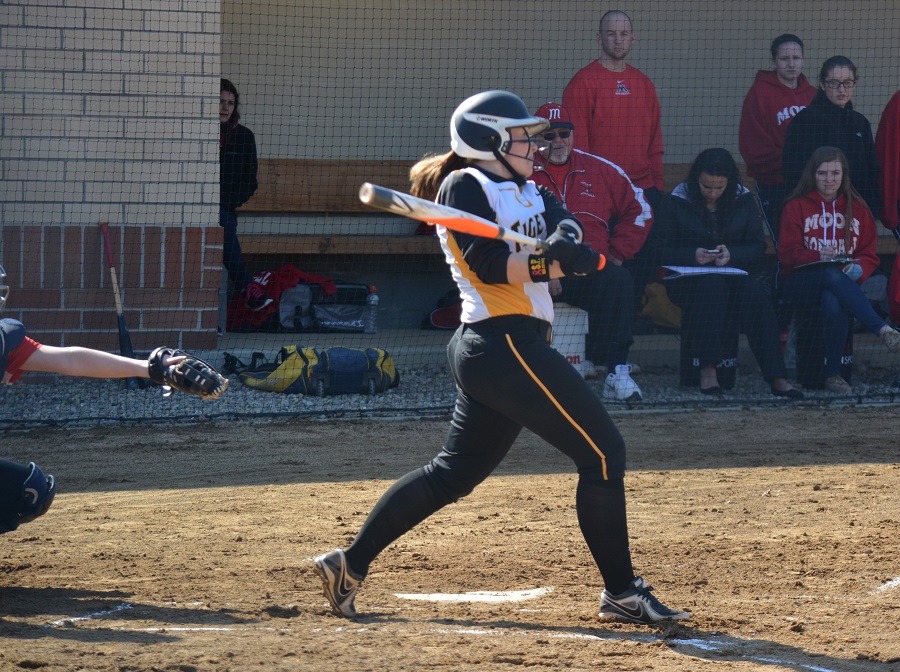 Tigers Launch Season With Successful Trip To Moon
After a delay on the pad, the North Allegheny Varsity Softball Team completed a successful Moon launch, returning home with a 4-0 victory in their opening game, highlighted by a two-hit, fourteen-strikeout performance by junior pitcher Madi Beining.  Beining went the distance and did not walk a batter and was supported by a Tiger defense that played errorless ball on their first venture onto a field for any reason in the 2015 season.
The NA offense combined for seven hits against a young but talented Moon team, with RBI's coming from senior center fielder Laura Cotter (2), senior left fielder Mackenzie Gostomski (1), and senior second baseman Emily Hogan (1).  Hogan also led the hit parade with a two-for-four performance including a double. The Tigers' only other extra-base hit was a double by Cotter.  The third inning gave Beining the only runs she would need as NA scored three times to take a 3-0 lead. They added an insurance run in the fourth to round out the day's scoring.
The win gives the Tigers an overall 1-0 record, with an identical mark in Section 3AAAA. North Allegheny is scheduled to next see action on Wednesday afternoon, when they host the Raiders in a 4:00 start at NASH Field.
Line Score - NA Softball vs. Moon, 3/24/15
| Score by Innings | 1 | 2 | 3 | 4 | 5 | 6 | 7 | | R | H | E |
| --- | --- | --- | --- | --- | --- | --- | --- | --- | --- | --- | --- |
| North Allegheny | 0 | 0 | 3 | 1 | 0 | 0 | 0 | | 4 | 7 | 0 |
| Moon | 0 | 0 | 0 | 0 | 0 | 0 | 0 | | 0 | 2 | 1 |
WP - Madi Beining (1-0) LP - Lauren Prutch (0-1)