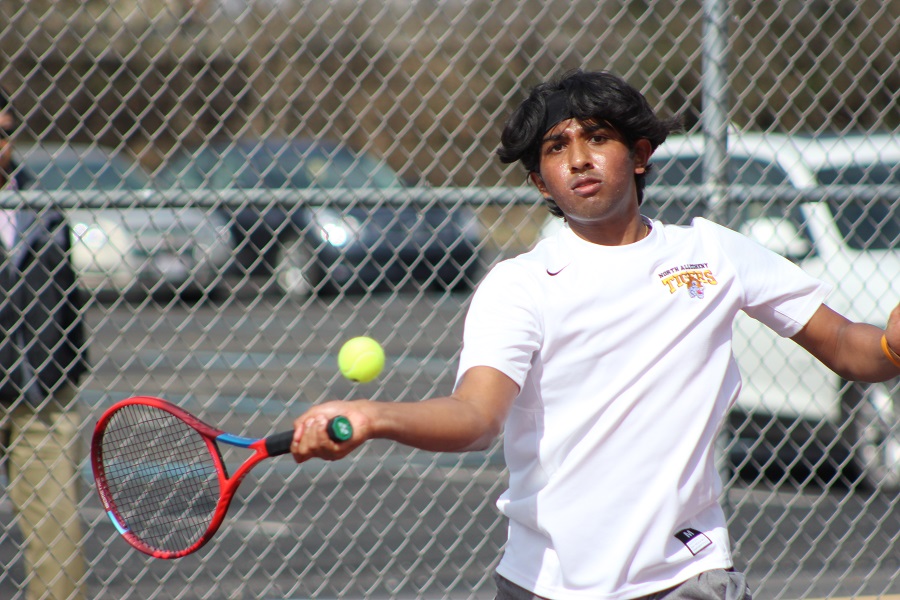 Tigers Open 2023 Season With Road Win Over Fox Chapel
After three consecutive weather-related cancellations, the Tigers opened their 2023 campaign Thursday afternoon on the road by challenging the Fox Chapel Foxes in an exhibition match.  With the weather warm and windy, the Tigers faced the defending WPIAL 3A champions in a rematch of last season's playoff quarterfinals.   The Foxes trotted out the same seven starters while the Tigers introduced four new players to their line-up, and the end result was a dramatic 3-2 victory for North Allegheny.
Senior (team captain) Manas Kathir opened the scoring by controlling Cooper Friday in straight sets out of the number two singles slot.  Making his varsity debut, freshman Shaun Fernando dominated Will Siegel without losing a game at number one singles.  After a loss at one doubles, freshman Evan Kaufman made his varsity debut and played exceptionally well before falling to the Foxes veteran 3rd singles player, Ananth Kushyap.
With the score tied at 2, all attention turned to 2nd doubles where sophomore Srivatsav Thirumala and freshman Matthew Kampi also made their Tigers debut.  Getting their feet both wet and grounded, the young duo yielded the first set 4-6.  They rebounded with a gutty performance in the second set to force a tie break at 6-6, which they then won 7-5.  With both teams cheering their teammates on, the 3rd and deciding set saw multiple service breaks which led to another tie break decision.  This time the Tiger cubs controlled the action and took the tie break 7-1 to complete the exciting 3-2 team victory for the Tigers.
The Tigers return to action Friday as they travel to Mt. Lebanon another exhibition contest, this time with the Blue Devils.  Match time is scheduled for 3:30 PM on the Mt. Lebanon High School Courts.
Match Summary – 03/16/2023
North Allegheny 3, Fox Chapel 2
Singles
#1 Shaun Fernando (NA) Will Siegel (FC) 6-0, 6-0 
#2 Manas Kathir (NA) def. Cooper Friday  (FC) 6-1, 6-0
#3 Ananth Kushyap def. Evan Kaufman (NA) 7-5, 6-4
Doubles
#1 Mason Friday/Jack Delaney (FC) def. Amit Bhandari/Raj Ginde 6-1, 6-2
#2 Sri Thirumala/Matthew Kampi (NA) def. Travis Malone/Ben Hallman (FC) 4-6, 7-6 (5) 7-6 (1)