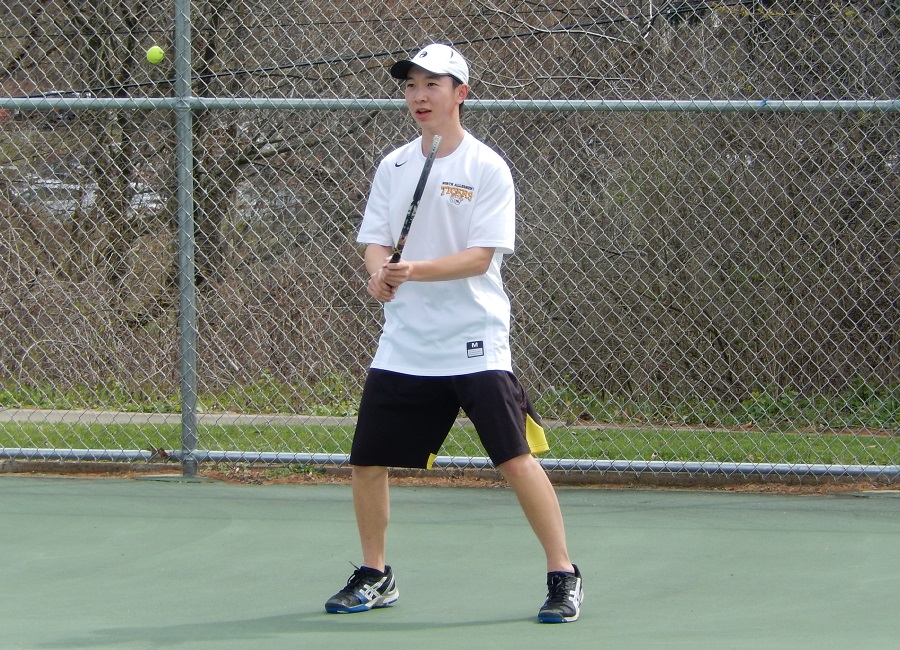 Tigers Open Season With 3-2 Win Over Mt. Lebanon
Last year's WPIAL AAA runners-up, the NA Tigers traveled to the Glen Creek Tennis Club in South Park on Friday to open their 2017 season against traditional Section 4 rivals, the Mt. Lebanon Blue Devils. The chilly St. Patrick's Day weather served as a backdrop for the Tigers to edge Mt. Lebanon 3-2 in an exciting exhibition match.
Leading the way for the Tigers and assuming the number one singles spot for his junior season, Richard Hofmann defeated Michael Wilke in straight sets.  The second team point came courtesy of sophomores Jerry Huang and Mark Chuirazzi, moving into the first doubles spot and defeating Ryan Stentz and Sander Ham in straight sets.  Juniors Andrew Chuirazzi and Ivan Voinov, playing three and two singles respectively, fell in very close three-set matches within minutes of each other.  This set the stage for the deciding match at number two doubles.  Junior Ethan Schenk teamed up with fellow junior, Reed Stasko, who made his varsity debut a memorable one by sweeping Owen Descalzi and Willis Larson to clinch the match for the Tigers.
The Tigers return to action Monday afternoon with their home opener, an exhibition rematch of last year's WPIAL title clash against the Fox Chapel Foxes. Match time on the NASH courts is set for 3:30 PM.
Match Summary – 03/17/2017
NORTH ALLEGHENY—3
Mt. Lebanon–2
Singles
#1  Richard Hofmann (NA) def. Michael Wilke (Mt. Leb.) 6-1, 6-4
#2  Sam Bellini (Mt. Leb.) def. Ivan Voinov (NA) 3-6, 7-6 (3), 7-5
#3  Ian McCabe (Mt. Leb.) def. Andrew Chuirazzi  (NA) 2-6, 6-0, 6-3
Doubles
#1  Mark Chuirazzi/Jerry Huang (NA) def. Ryan Stentz/Sander Ham (Mt. Leb) 6-4, 7-5
#2  Ethan Schenk/Reed Stasko (NA) def. Owen Descalzi/Willis Larson (Mt. Leb.) 6-3, 6-3