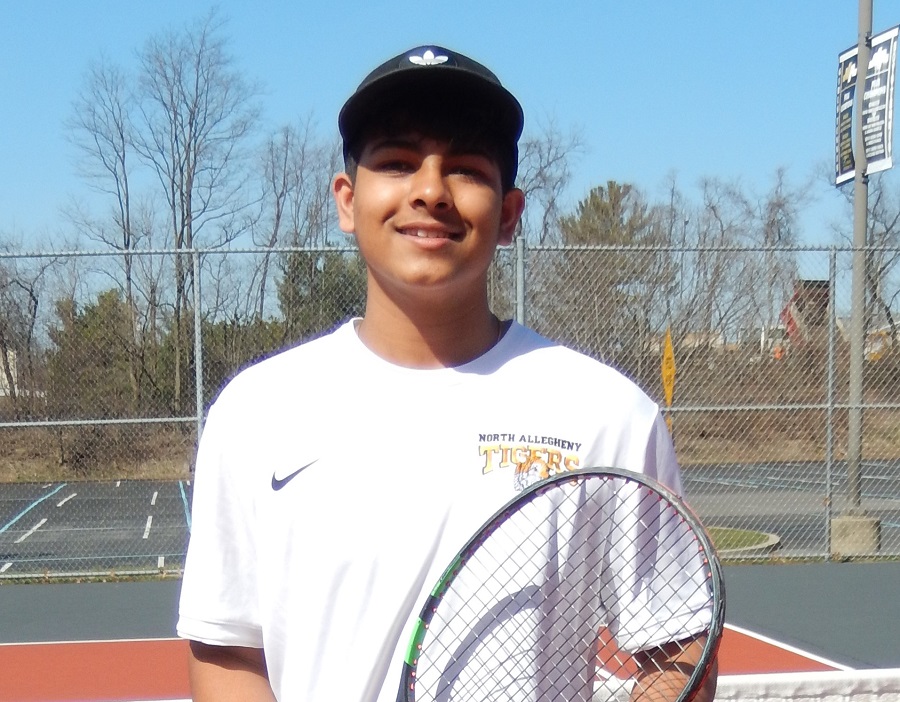 Tigers Open Section Play With 4-1 Win Over Seneca Valley
On a stunning early spring day, the Tigers opened Section 2 play by welcoming their northern rivals, the Seneca Valley Raiders to the NASH courts Monday afternoon.  Playing a revamped line-up due to illness, the Tigers still were able to dominate play and beat the Raiders 4-1.  Opening the scoring was sophomore Raj Ginde, playing up at number two singles for the first time and defeating his opponent without losing a single game in his two sets.  Following suit, sophomore Sri Bellamkonda stepped up at three singles to tame his opponent in two quick sets.
One of the feature matches of the day also proved to be the match clincher for the Tigers as junior Shomik Telang tangled with Seneca's ace, Parker Logue.  Logue, the senior, dramatically improved his game after the forced cancellation of the 2020 season.  Telang was making his first start out of the number one singles slot for the Tigers and proved up for the challenge.  Using a strong assortment of shots and controlling the pace, Telang defeated Logue in two sets to claim the deciding 3rd point for the Tigers.  Shortly after, senior Krishna Naik and junior Milun Jain, playing for the first time together, fashioned a solid 6-4, 6-3 win against Seneca's number one doubles team for the final point.  Rounding out play, senior Greg Phillips and junior Dom Bellisario manned the 2nd doubles team.  After playing a solid first set, the duo lost a heartbreaking tie-breaker and fought strongly in the second set before falling to the Seneca duo.
The Tigers return to action Wednesday afternoon with more Section 2 play as they travel to Pine-Richland for another northern area showdown.   Match time with the Rams is scheduled for 3:30 PM.
Match Summary – 03/22/2021
North Allegheny  4    Seneca Valley  1
Singles
#1  Shomik Telang (NA) def. Parker Logue (SV) 6-3, 6-2 
#2  Raj Ginde (NA) def. Mark Evelsizer (SV) 6-0, 6-0
#3  Srivatsa Bellamkonda (NA)  def. Jonah Blackwood  (SV) 6-1, 6-0
Doubles
#1  Krishna Naik/Milun Jain (NA) def. Matt Kraft/Michael deVyver (SV) 6-4, 6-3
#2  Ethan Kiggins/Ethan Staudt (SV) def. Greg Phillips/Dom Bellisario (NA) 7-6 (5), 6-4