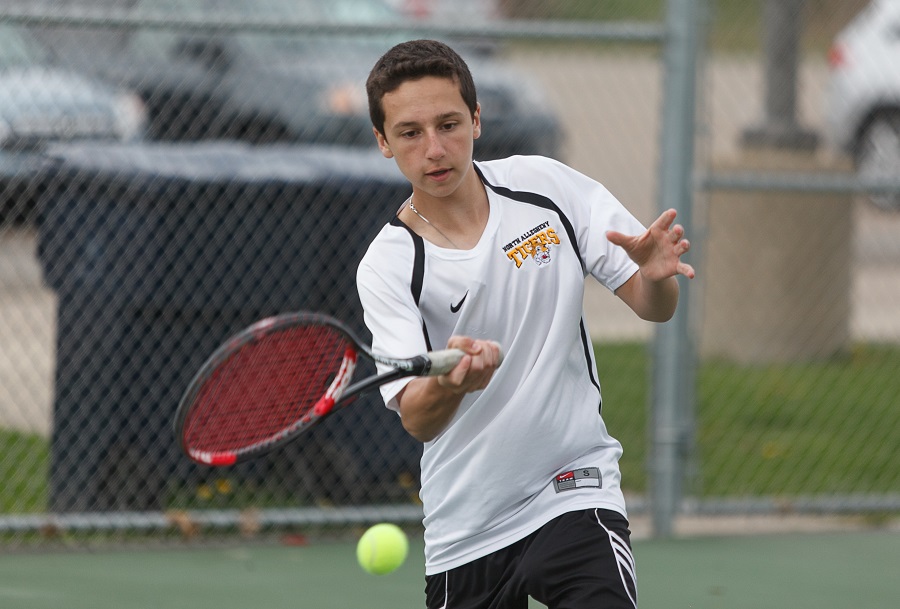 Tigers Open Section Play With Victory Over North Hills
The Tigers opened Section 2 play on a chilly Monday afternoon on the NASH courts by welcoming their friendly rivals, the Indians of North Hills. When the matches were settled, the Tigers walked away with a 5-0 victory over Coach Matt Woffington's game squad.
The first Tiger point was recorded by senior Apoorv Anand and junior Anmol Anand at number two doubles.  Senior Jared Isaacs followed at number one singles while freshmen Mark Chuirazzi and Jerry Huang clinched the match with their first attempt at number one doubles. Rounding out play, sophomore Richard Hofmann took number two singles while number three singles was manned by senior swingman Aamir Khan.
The Tigers improve to 3-2 on the young season and will continue section 2 play Tuesday afternoon against Seneca Valley.  Match time against the Raiders in Harmony, PA is scheduled for 3:30 PM.
Match Summary 3/21/2016
North Allegheny—5   North Hills—0
Singles
#1 Jared Isaacs (NA) def. Martin Varys (NH) 6-1, 6-1
#2 Richard Hofmann (NA) def. Craig Deng (NH) 6-0, 6-0
#3 Aamir Khan (NA) def. Connor McEwen (NH) 6-4, 6-2
Doubles
#1  Mark Chuirazzi/Jerry Huang (NA) def. Kris McEwen/Steven Liao (NH) 6-0, 6-3
#2 Apoorv Anand/Anmol Anand (NA) def. Kyle Swartzbaugh/Nate Salopek (NH) 6-0, 6-1