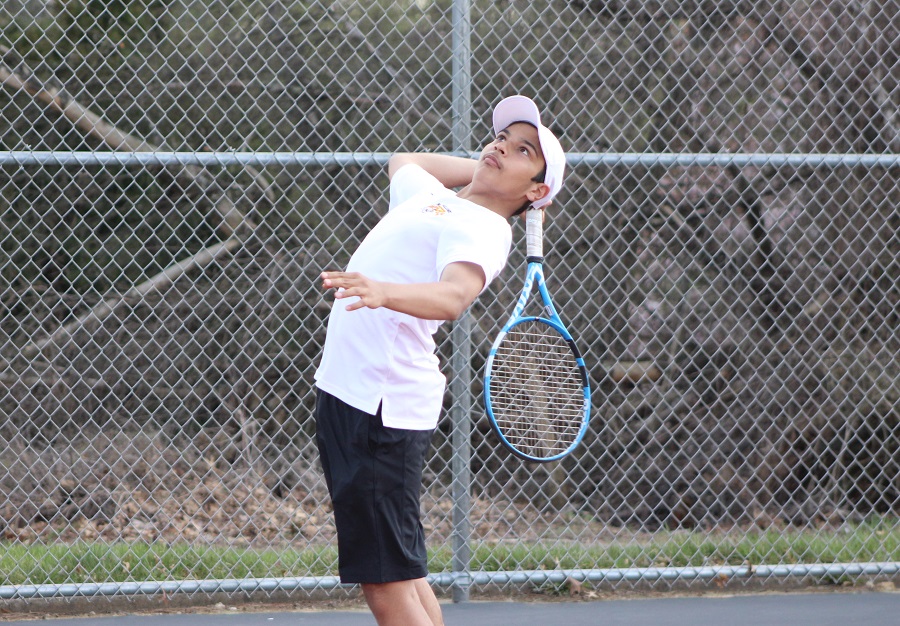 Tigers Open WPIAL Playoffs With 5-0 Shutout of Central Catholic
The Tigers opened the first round of the WPIAL AAA Boys Team Tennis Championship by hosting Pittsburgh Central Catholic on the NASH courts Wednesday.  The 4th seeded Tigers dominated the Vikings and took the match 5-0.   The scoring was opened by sophomore Raj Ginde at three singles as he quickly took the measure of Matt Luckiewcz in straight sets.  Next in the scoring column was the duo of sophomore Sri Bellamkonda and senior Krishna Naik at one doubles who defeated Ryan Broadhurst and Jack Sabo.  The match clincher came from the rackets of junior Milun Jain and senior Greg Phillips at two doubles as they beat Yosei Fukasaku and Cooper Luedde in the third consecutive straight-set contest.
Rounding out play, junior Shomik Telang took a tight first set at two singles against the game Anthony Arshoun and then went on to wrap up the second decisively.  Senior Chase Davidson (a USC commit) fell behind in the first set at one singles against Kyle Broadhurst but made it close at 4-6.  Close turned to domination as Davidson sped by Broadhurst 6-2, 6-1, in the next two sets.
With the win, the Tigers improve to 12-1 on the season and move on to the quarterfinal round of the WPIAL Championship on Thursday afternoon as they host the winner of the Mt. Lebanon vs. Latrobe 1st round contest.  Match time is scheduled for 3:00 PM on the NASH courts.
Match Summary—WPIAL AAA Team Championship—First Round – 5/05/2021
North Allegheny  5    Central Catholic  0
Singles
#1  Chase Davidson (NA) def.  Kyle Broadhurst (CC) 4-6, 6-2, 6-1
#2  Shomik Telang (NA) def. Anthony Arshoun (CC) 6-4, 6-2
#3  Raj Ginde (NA) def. Jack Luckiewcz (CC) 6-0, 6-2
Doubles
#1  Srivatsa Bellamkonda/Krishna Naik (NA) def. Ryan Broadhurst/Jack Sabo (CC) 6-1, 6-2
#2  Greg Phillips/Arnav Ranade (NA) def. / Yousei Fukasaku/Cooper Luedde (CC) 6-2, 6-4