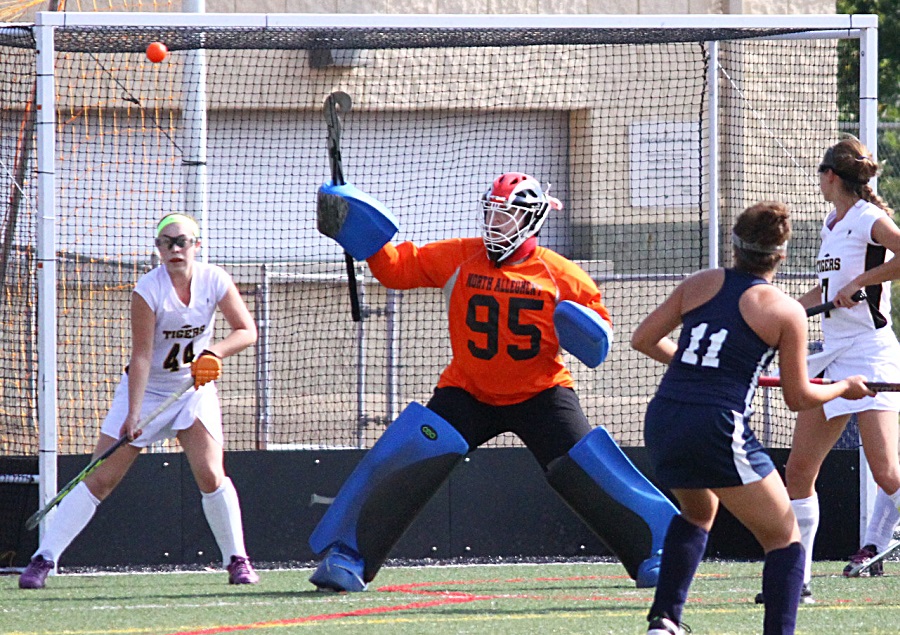 Tigers Outhustle Hudson For 6-0 Win
The Tigers had something to prove when they met the Hudson Explorers on Saturday morning at Newman Stadium. In the previous four regular season matches, the Tigers had split the wins/losses at two apiece, though only tallying one goal per game against the Hudson teams.  In this year's match, the Lady Tigers showed their quick and relentless style of hockey in a decisive win, stunning the Explorers 6-0.
Seven minutes into the match, the Tigers earned a penalty corner which produced a long pass from Megan Guzzardi to Nicole Burns, who brought the ball into the circle and nailed a hard shot to put the Tigers on the scoreboard.  The Explorers maintained their composure throughout the half, with their own style of tightly manned defense.  Additionally, Hudson's offense was able to earn 6 penalty corners in the Tigers defensive zone; however, Tigers goalie, senior Isley Smith made 3 saves on 3 shots, while defender Kendra Downey tallied 2 defensive saves to blank the Explorers.  The Tigers ceaseless digging for the ball and accurate passing along the right side would aid them in adding the insurance goal late in the half.  Guzzardi received the ball on a cross from Jessica Brandon, and took a shot that hit a Hudson defender, deflecting over to junior Maddy Snyder, who sent a wrist shot past the Hudson goalie. The half would end with the Tigers up 2-0.  NA had pummeled the Hudson goalie throughout the half, earning 5 penalty corners and tallying 12 shots on goal.  NA also defended 6 penalty corners in the first 30 minutes of play.
The second half would see the Tigers wearing down the Hudson girls, repeatedly breaking up their passing game, turning the play toward the opposite end, and unloading 11 more shots on goal. The Tigers started their scoring rush around 18 minutes into the half, after earning one of their 10 additional penalty corners.  Guzzardi came up with the ball inside the circle and backhanded a pass through the defense to Kailey Vogl on the near post.  Vogl sent a backhand shot into the net to go ahead 3-0.  The Explorers seemed a little deflated, as less than two minutes later Brandon would bring a long hit in from the right sideline and cross the ball into the center that was picked up by Hannah Downing and drilled into the net.  It would take just two more minutes before the Tigers connected again on a penalty corner, when Burns passed the ball to Guzzardi, who lifted it over the Hudson goalie and into the net.  The final tally would end the scoring at 6-0 when Downing rolled a ball under the goalie just seconds before the buzzer.
The Tigers meet section rival Pine Richland at 7:30 (JV 6:00) on Monday evening at Pine Richland High School. Please join fellow Lady Tigers fans in cheering on the team to victory!
Field Hockey Summary vs. Hudson
| GAME SUMMARY | | | |
| --- | --- | --- | --- |
| SCORE BY HALVES | 1 | 2 | FINAL |
| Hudson | 0 | 0 | 0 |
| North Allegheny | 2 | 4 | 6 |
Field Hockey Individual Scoring vs. Hudson
| INDIVIDUAL STATS | | |
| --- | --- | --- |
| FIRST HALF | | |
| North Allegheny | Nicole Burns (Megan Guzzardi) | 6:40 |
| North Allegheny | Maddy Snyder (Guzzardi) | 24:39 |
| SECOND HALF | | |
| North Allegheny | Kailey Vogl (Guzzardi) | 13:14 |
| North Allegheny | Hannah Downing (Jessica Brandon) | 19:55 |
| North Allegheny | Guzzardi (Burns) | 21:45 |
| North Allegheny | Downing (Vogl) | 29:30 |