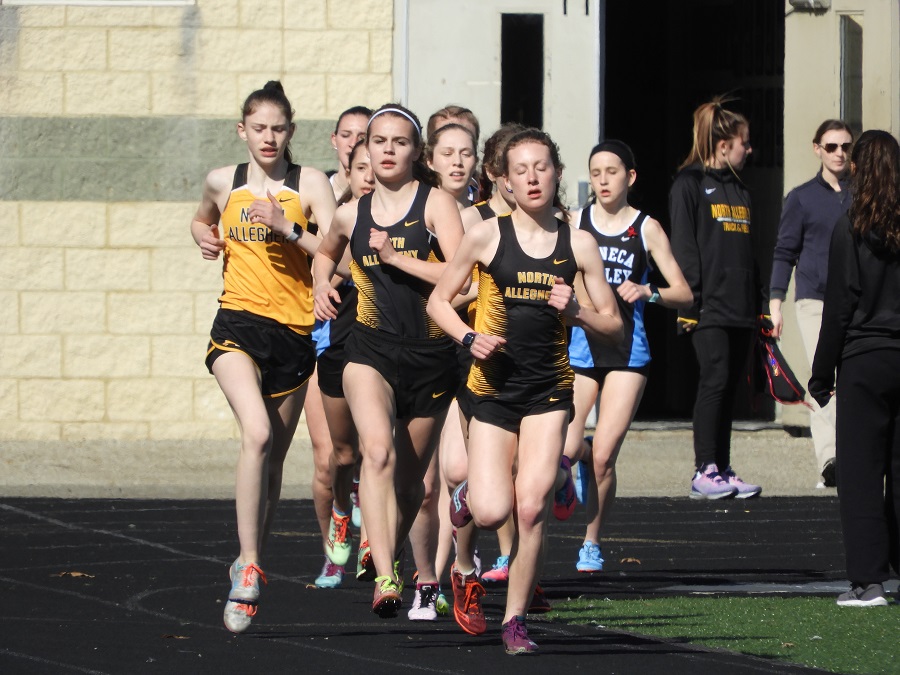 Tigers Perform Well At Wildcat/Spartan Invitational
Due to inclement weather, the Wildcat/Lady Spartan Invitational was postponed to Saturday. The weather was ideal for a track meet and 18 teams competed. The Lady Tigers were able to finish in fourth place overall, while the Boys finished sixth.
The highlight event for the Lady Tigers came from the 3200m Run as Hannah Lindgren, Ally Christy, and Jenna Mlecko swept the long distance run and stood on the podium with first, second, and third place honors.  Teammate Keeley Misutka medaled with an amazing race and first place honors in the 1600m Run. Other notable performances for the girls on the track included Aveline Plenter hurdling to a fourth-place finish in the High Hurdle race followed by Sarah Satcho finishing fifth in the same event.  Caroline Daggett raced to a fifth-place medal in the 1600m Run.  Lola Akindele was the only Tiger to medal in two events, as she captured fifth place in the 200m Dash and sixth place in the 100m Dash.  In the field events, newcomers Bri Rice and Abby Barton medaled fifth place in the Long Jump and Pole Vault while Hannah Ziegler finished in sixth place in the Javelin.
Dan McGoey was the only Tiger to win an event for the Boy's team, as he outran his opponents by over 10 seconds in the 3200m Run. Donovan Rice hurdled to second place finishes in both the High and Intermediate Hurdle races. James Huber (400m Dash) and Luke Turkovich (800m Run) both raced to third place finishes in the meet. Scott Nalepa stood on the award podium with a fourth-place finish in the 3200m Run. The only field event athlete to score for the Tigers was Isaac Burt with a fifth-place tie in the High Jump.
The Tigers will travel to Pine Richland on Monday to compete in another sectional showdown against the Rams and the Indians of North Hills.