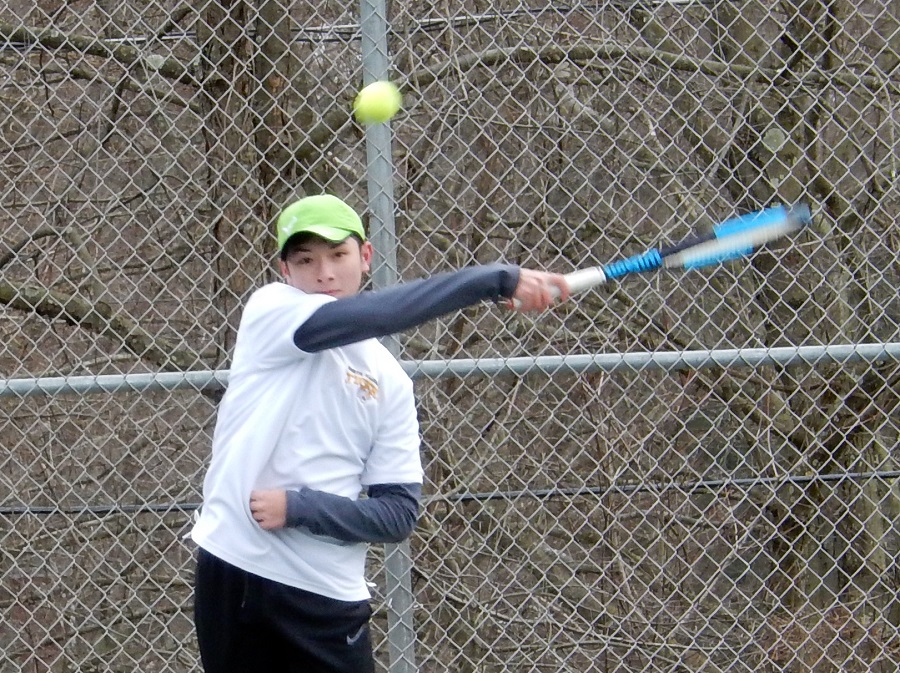 Tigers Pounce on Panthers for Third Consecutive Win
With 39-degree temperatures and rapidly disappearing sunshine, the Tigers hosted another South Hills rival on the NASH courts Monday afternoon and came away with a thrilling 4-1 victory.
In a contest that was closer than the final indicated, the Tigers watched two matches end simultaneously, opening a 2-0 lead.  Seniors Mark Chuirazzi and Jerry Huang combined at number one doubles to beat Shivam Patel and Nitesh Nagpal in straight sets. At the exact same moment, junior Ven Naik defeated USC's ace, Ross Petrone, in the one singles slot.  While senior Soureesh Moturi was splitting sets at number two singles, and the team of senior Rohan Cowlagi and freshman Atharva Sumant splitting at two doubles, the stage was set for the clinching point.  Junior Ethan Vodovotz, playing his second varsity match at three singles, found himself locked in a tight battle with Ayush Sharma.  After taking the first set 6-4, Vodovotz found himself down 4-5 in the second set. He broke Sharma to even the set, held serve, and broke again in a tense final game to win the set 7-5.  With the victory in hand, Moturi took his third set while Cowlagi and Sumant fell 4-6 in their third set.  The win improves the Tigers' record to 3-0 on the young season.
The Tigers return to action Tuesday afternoon in another exhibition match as they travel to Hollidaysburg High School. The starting time is scheduled for 3:30 PM.
Match Summary
03/18/2019
North Allegheny—4 Upper St. Clair–1
Singles
#1 Ven Naik (NA) def. Ross Petrone (USC) 6-4, 6-2
#2 Soureesh Moturi (NA) def. Jay Vakil (USC) 6-4, 3-6, 7-6 (10-8)
#3 Ethan Vodovotz (NA) def. Ayush Sharma (USC) 6-4, 7-5
Doubles
#1 Mark Chuirazzi/Jerry Huang (NA) def. Shivam Patel/Nitesh Nagpal (USC) 6-3, 6-4
#2 Dev Patel/Pete Hassett (USC) def. Rohan Cowlagi/ Atharva Sumant (NA) 6-2, 6-7 (2-7), 6-4