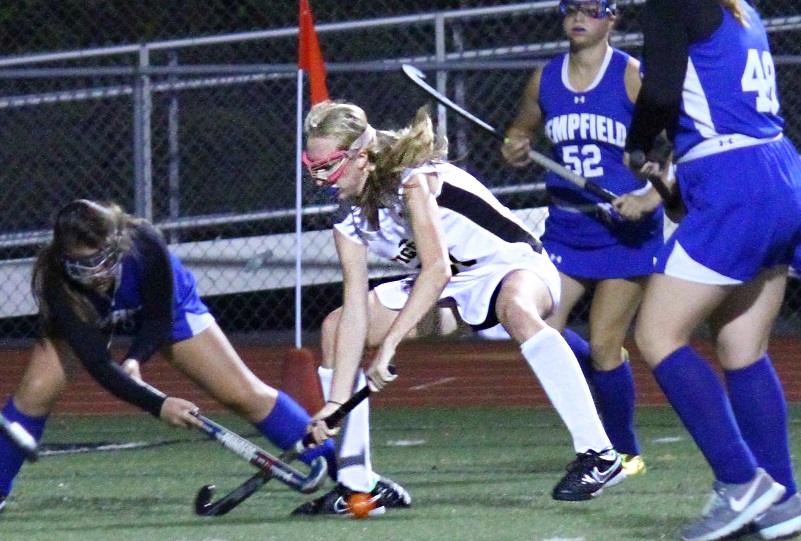 Tigers Pour On The Offense In Win Against Hempfield
In sharp contrast to the previous night's defensive game, the Tigers displayed offensive firepower in Wednesday's 9-0 win over Hempfield. NA's midfielders, consisting mainly of seniors Hannah Downing, Nicole Burns and Megan Guzzardi, controlled the field throughout the match, halting Hempfield nearly every time they tried to cross into the Tigers' defensive zone.  Hempfield was unable to get close enough to take a shot on goal or draw a penalty corner.
Meanwhile, the Tigers' offense roughed up the Hempfield goaltenders, pounding the ball at the cage time and again, amassing a total of 18 shots on goal, 9 of which found their mark. While Downing knocked in the first goal, assisted by senior Kailey Vogl, less than two minutes into the game, it would be the Tigers' forwards who produced the remainder of the goals.  Junior Maddy Snyder scored 4 goals, two of which were assisted by senior Jessica Brandon.  Snyder's other two goals were assisted by Downing and Guzzardi.  Brandon also added two unassisted goals of her own.  The remaining two goals were scored by junior Anna Zahren and sophomore Erin Coran.  Coran was credited with the assist on Zahren's goal, while her own goal was unassisted.  Though Hempfield tried to add pressure, they were up against some stiff competition in a Tigers team that has, in section play this season, given up only 1 goal, while amassing 43 goals prior to game time.  When they weren't scoring goals in tonight's game, the Lady Tigers were hustling to advance the play and recover loose balls, stickhandling to maintain possession, and passing accurately and often.  As Hempfield discovered, when the Tigers are on, they are tough to tame.
The Tigers will enjoy a well-deserved mini-break before they host Latrobe on Wednesday October 8 at Newman Stadium. Game time is set for 7:30 (JV 6:00.)  The Latrobe game will be played on Senior Night when seniors and their parents will be honored on the field, under the NA arch, in between games.  Please join fellow Tigers fans in honoring the seniors and cheering on the team to another section victory.
Field Hockey Summary vs. Hempfield, 10-2-14
| GAME SUMMARY | | | |
| --- | --- | --- | --- |
| SCORE BY HALVES | 1 | 2 | FINAL |
| Hempfield | 0 | 0 | 0 |
| North Allegheny | 5 | 4 | 9 |
Field Hockey Individual Scoring vs. Hempfield
| INDIVIDUAL STATS | | |
| --- | --- | --- |
| FIRST HALF | | |
| North Allegheny | Hannah Downing (Kailey Vogl) | 1:32 |
| North Allegheny | Maddy Snyder (Jessica Brandon) | 8:40 |
| North Allegheny | Snyder (Downing) | 11:58 |
| North Allegheny | Brandon | 14:07 |
| North Allegheny | Anna Zahren (Erin Coran) | 29:57 |
| SECOND HALF | | |
| North Allegheny | Snyder (Brandon) | 4:43 |
| North Allegheny | Brandon | 16:10 |
| North Allegheny | Snyder (Megan Guzzardi) | 21:28 |
| North Allegheny | Coran | 22:26 |