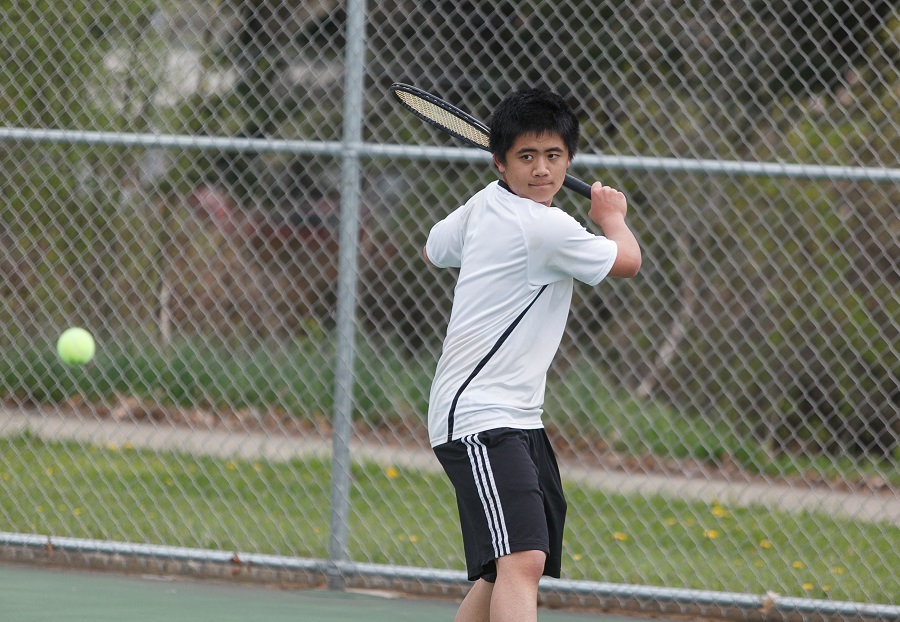 Tigers Resume Section Play At Home, Beat Knoch 5-0
The Tigers continued Section 2 play Tuesday afternoon on their home courts by welcoming their new rival, the Knoch Knights.  The Tigers prevailed in the contest with a sweep, and all matches were completed in straight sets.
The first point of the match came from junior Jared Isaacs at number one singles, followed by freshman Ivan Voinov at number three singles.  The clincher came courtesy of juniors Andrew Xu and Apoorv Anand, playing together for the first time, at number one doubles.  Senior Eric Huang and freshman Andrew Chuirazzi also formed a new doubles combo and prevailed at the number two slot.  Rounding out the hit parade was freshman Richard Hofmann who triumphed at number two singles. 
The Tigers improve to a 5-0 record in the early portion of the season, and are now 3-0 in Section 2 play.  The NA Tigers will take on the Moon Tigers Wednesday afternoon, on the road, in a critical Section 2 match, starting at 3:30 PM.
Match Summary (3/24/15)
NORTH ALLEGHENY—5  KNOCH–0
Singles
#1  Jared Isaacs (NA) def. Ben Andrews (K) 6-0, 6-0
#2  Richard Hofmann (NA) def. Mark Sotomayer (K) 6-0, 6-0  
#3  Jared Isaacs (NA) def. Martin Starsinka (K) 6-1, 6-0
Doubles
#1  Andrew Xu/Apoorv Anand (NA) def. Dan Carns/Robert Hawranko (K) 6-0, 6-0
#2  Eric Huang/Andrew Chuirazzi (NA) def. Ken Damits/Michah Keller (K) 6-1, 6-0