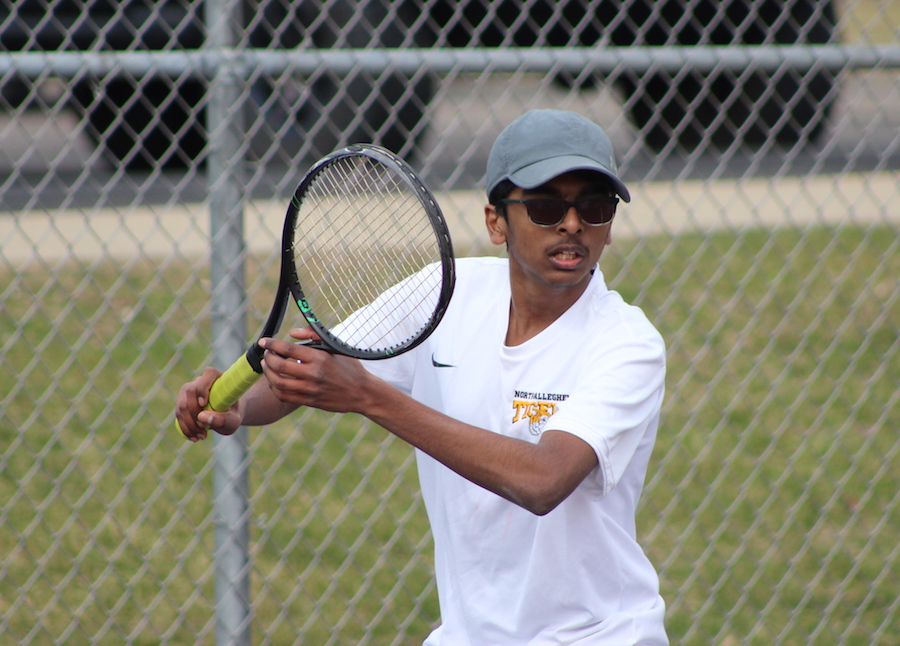 Tigers Resume Section Play, Topple Pine-Richland, 4-1
Following their extended spring break, the Tigers tried to shake off the rust by playing Section 2 rival Pine-Richland on the road Monday afternoon.  After a slow start, the Tigers found their rhythm and fashioned a 4-1 victory over their neighboring rivals, the Rams.
Registering the first point, senior captain Manas Kathir played the first singles line and controlled his match without losing a game.  The second point followed from second doubles where the duo of sophomore Sri Thirumala and freshman Adhav Ramadas also won in straight sets.  Freshman Evan Kaufman clinched the match for the Tigers with his solid win at second singles.  With the match decided, the one doubles team of junior Amit Bhandari and freshman Matthew Kampi reeled off three straight games in the first set to turn a 4-3 deficit into a 6-4 win.  They followed by taking the second set 6-3 to finish the scoring for the Tigers.  Playing his first singles match of the year, senior Raj Ginde lost a tight first set and came back in the second to force a tie break where he ultimately fell to his opponent in the third singles contest.
With the win, the Tigers improve their overall record to 6-0 and move their section mark to -3-0.  The Tigers pause Section 2 play on Tuesday as Manas Kathir represents the Tigers from the #9 seed in the WPIAL Singles Championship Tournament on the NASH courts.  Play starts at 11 AM.
Match Summary – 04/10/2023
North Allegheny 4, Pine-Richland 1
Singles
#1  Manas Kathir (NA) def. Adam Fink (P-R) 6-0, 6-0
#2  Evan Kaufman(NA) def. Ryan Moore (P-R) 6-2, 6-0
#3  Ben Santiago (P-R) def. Raj Ginde (NA) 6-4, 7-6 (2)
Doubles
#1  Amit Bhandari/Matthew Kampi (NA) def. Nathan Bang/Amitva Pal (P-R) 6-4, 6-3
#2  Sri Thirumala/Adhav Ramadas (NA) def. Caleb Greenblatt/Lucas Cordoba (P-R) 6-0, 6-1