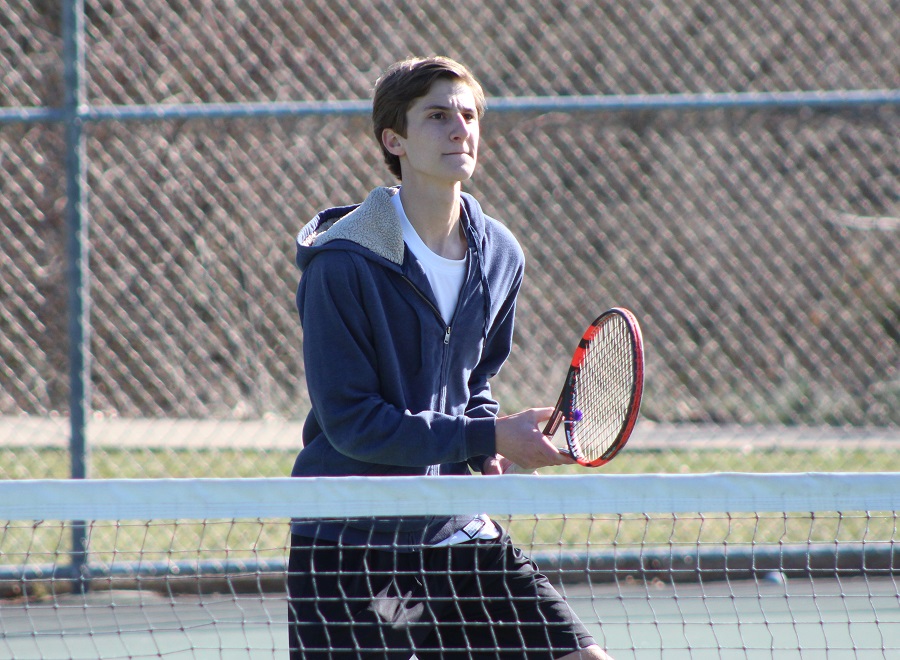 Tigers Resume Section Play With 4-1 Win Over Hampton
The Tigers returned to Section 2 competition Thursday afternoon by hosting the Hampton Talbots on the NASH courts. After dodging some early raindrops, the Tigers took control of the match against solid competition and forged a 4-1 win.  While each Tigers win came in straight sets, the Talbots offered exceptional poise and play in each contest.
The first team point came courtesy of number one doubles, as sophomores Mark Chuirazzi and Jerry Huang defeated Tim Miller and Kurt Mueller.  Junior Ivan Voinov delivered the second team point at two singles over Ted Donegan.  The match clincher came from second doubles, where juniors Reed Stasko and Ethan Schenk combined to halt Matt Gruber and Sai Kondisetti.  The fourth and final point for the Tigers came from the return of junior Richard Hofmann at number one singles.  Outstanding newcomer Ben Ringeisen displayed an impressive array of shots while falling to the more experienced Hofmann.  The final competition saw the only three setter, as junior Andrew Chuirazzi fell to Abheet Badrinath.
With the win, the Tigers improve to 3-4 on the season and 2-0 in section play. They continue Section action Friday afternoon at home against the Pine-Richland Rams.  Due to projected weather conditions, the match has been moved indoors to the PURE Athletex complex with a 1:00 PM starting time.
Match Summary – 03/30/2017
North Allegheny—4, Hampton–1
Singles
#1  Richard Hofmann (NA) def. Ben Ringeisen (H) 6-2, 6-4
#2  Ivan Voinov (NA) def. Ted Donegan 6-1, 6-1
#3  Abhit Badrinath (H) def. Andrew Chuirazzi  (NA) 3-6, 6-2, 6-2
Doubles
#1  Mark Chuirazzi/Jerry Huang (NA) def. Tim Miller/Kurt Mueller (H) 6-1, 6-1
#2  Reed Stasko/ Ethan Schenk (NA) def. Matt Grubic/Sai Kondisetti 6-4,  6-2