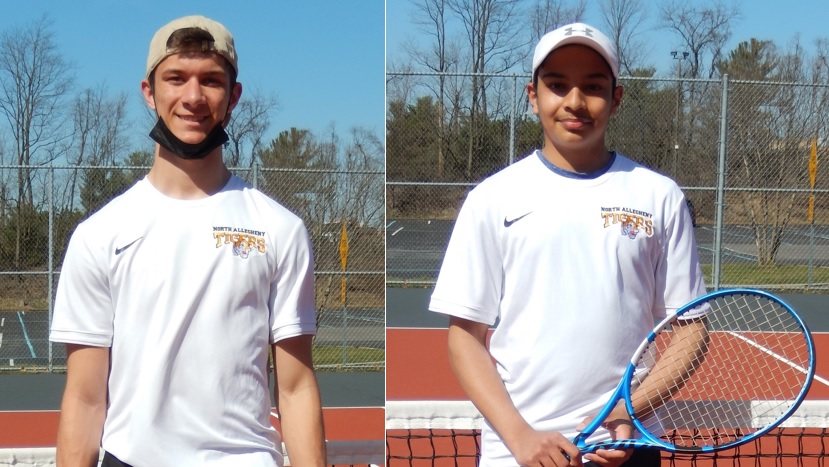 Tigers Resume Section Play With 5-0 Win Over Butler
The Tigers resumed Section 2 play Monday afternoon by hosting Butler Area at the NASH courts and defeating the Golden Tornado 5-0 with five straight two-set wins.  The Tigers' opened the scoring off the racket of  Chase Davidson at number one singles, with the senior claiming a straight set win without losing a game.   The second point was courtesy of number two doubles as juniors Arnav Ranade and Dom Bellisario also claimed a straight set win.  The clinching point was turned in by sophomore Raj Ginde at number three singles, again without losing a game.   Junior Shomik Telang was next at number two singles, and the final point was tallied by senior Greg Phillips and junior Milun Jain at number one doubles.
With the win, the Tigers improved to 5-1 on the season and 3-0 in section play.  The Tigers continue their stretch of Section 2 competition Tuesday afternoon when they travel to Moon Area for an important contest.   Match time is scheduled for 4 PM.
Match Summary – 03/29/2021
North Allegheny  5    Butler Area  0
Singles
#1  Chase Davidson (NA) def. Josh Kelley (B) 6-0, 6-0
#2  Shomik Telang (NA) def. Clark Stanton (B) 6-1, 6-2
#3  Raj Ginde (NA) def. Ben Buster (B) 6-0, 6-0
Doubles
#1  Milun Jain/Greg Phillips (NA) def. Xavier Wentz-Raupp/Deagan Moore (B) 6-1, 6-1
#2  Dom Bellisario/Arnav Ranade  (NA) def. Braden Mitchell/Colten Vietmeier (B) 6-1, 6-1