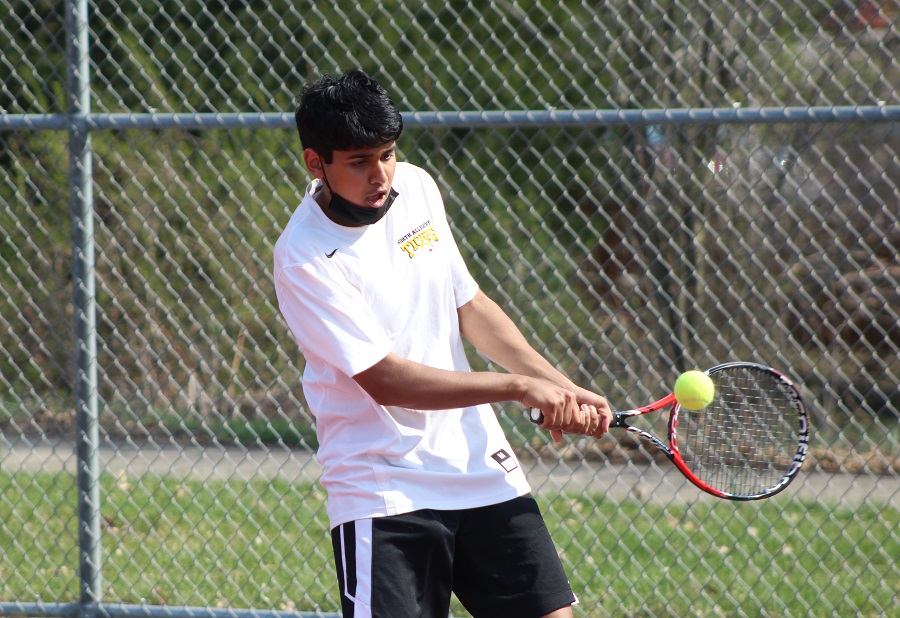 Tigers Send Two Teams to WPIAL Doubles
Day one of the Section AAA-2 Doubles Tennis Tournament was held at the NASH courts Tuesday afternoon, and it proved to be a stellar experience for the Tigers.  Sophomores Sri Bellamkonda and Raj Ginde comprised the NA #2 team and drew the overall third seed to take on West Allegheny's #2 team.    The Tigers defeated Tyler Sylvis and Luke Dale 10-0.  Next up was the Seneca Valley #1 team, and the Tigers prevailed again, 10-6, beating Matt Kraft and Mike deVyver.  The quarterfinal win propelled Bellamkonda and Ginde into the semi-finals where they tangled with the second seeded Moon #1 team of Anthony Lounder and Rohan Maheshwari.  The Moon duo controlled the pace of the match and won in straight sets, 6-3, 6-3.
The #1 NA team of senior Chase Davidson and junior Shomik Telang drew the overall first seed and took on Pine-Richland's #2 entry in the first round, beating Ethan Silipo and Andrew Alexander 10-1  Next up was Butler's #1 team, Collin Gahagan and Clark Stanton, who fell to the Tigers 10-0.   The quarterfinal victory sent Davidson and Telang to the semi-finals where they battled the fourth seeded North Hills #1 team, Josh Kim and Brandon McEwen.  Playing an uneven first set, the Tigers held serve at critical moments and won 7-6, with a 7-5 tally in the tiebreak.  The Indians then counterpunched with a 6-3 victory in the second set.  The third set proved to be an all-NA contest as the Tigers won 6-2 to take the match and reach the championship round of Section 2 competition.
With the top four doubles units guaranteed a berth, both North Allegheny teams have already punched their tickets to the WPIAL Doubles Tournament next week.  In the meantime, the championship match between NA's Davidson and Telang versus Moon's Lounder and Maheshwari will start at noon, Wednesday, at the Oxford Athletic Club.  NA's Bellamkonda and Ginde will face Kim and McEwen of North Hills in the consolation match, also at Oxford, at noon on Wednesday.