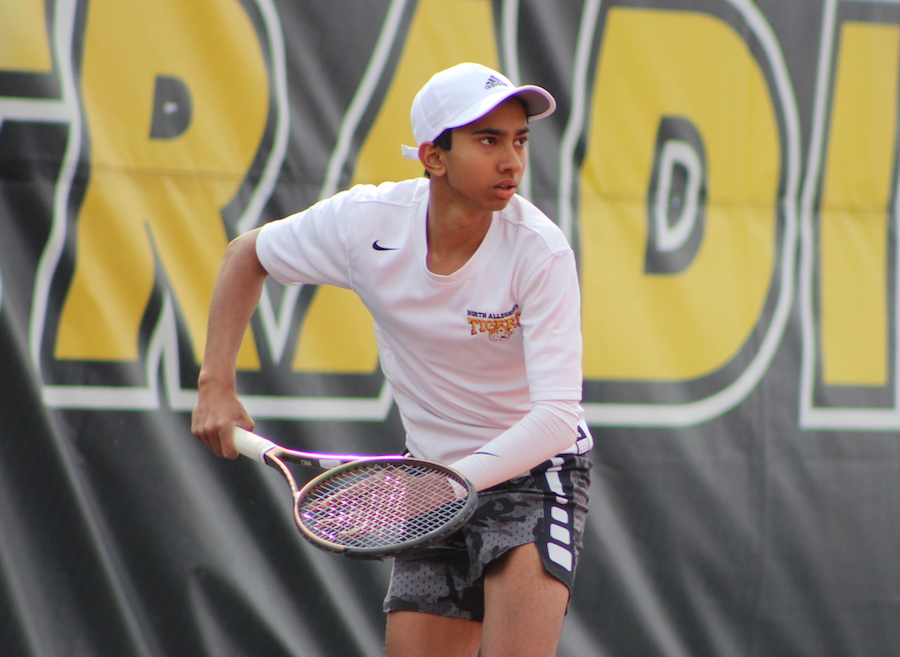 Tigers Slay Dragons, 5-0
The NA Boys Tennis Team hosted Section 3's Allderdice with an exhibition match Tuesday afternoon and battled a strong team, eventually earning a 5-0 shutout victory.  Leading the way with the initial team point was freshman Evan Kaufman at third singles with a straight set win.    The second doubles team of sophomore Sri Thirumala and freshman Adhav Ramadas earned the second point, also in straight sets.  Junior Amit Bhandari and freshman Matthew Kampi delivered the match clincher at number one doubles in two-set fashion, also.
With the match decided, the one and two singles competitions furnished some high-powered and action-oriented battles.  Senior Manas Kathir tangled with Allderdice's Ian Kuchera, splitting the first two sets in the number two singles contest.  The third set saw some strong baseline offerings from both players before Kathir took control, breaking for a 6-3 win.  Wrapping up the action, the Tigers' number one singles player, freshman Shaun Fernando, faced the Dragon's ace, Deniz Finkel, and the two engaged in a fast-paced contest.  After taking the first set 6-3, Fernando controlled the match in the second with a strong variety of shots, ranging from baseline winners to angled cross court volleys and stunning top spin forehands.  He took the set by a comfortable 6-1 margin to win the one singles competition.
The win moves the Tigers to 3-0 on the season.  They begin Section 2 play Wednesday afternoon as they host the Moon Area Tigers.  Match time is scheduled for 3:30 PM on the NASH Courts.
Match Summary – 03/21/2023
North Allegheny 5, Allderdice 0
Singles
#1 Shaun Fernando (NA) Deniz Finkel (A) 6-3, 6-1 
#2 Manas Kathir (NA) def. Ian Kuchera  (A) 6-2, 4-6, 6-3
#3 Evan Kaufman (NA) def. Noah Earnest-Hawken (A) 6-0, 6-0
Doubles
#1 Amit Bhandari/Matthew Kampi (NA) def. Luke Pena/Evan Dine (A) 6-1, 6-1
#2 Sri Thirumala/Adhav Ramadas (NA) def. Josh Kotov/Hari Arunachalam (A) 6-0, 6-0