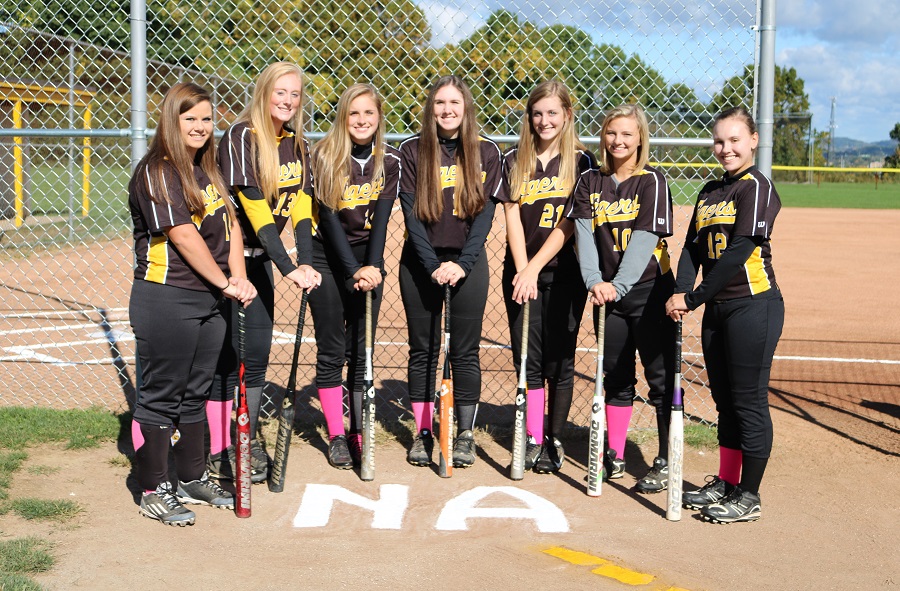 Tigers Slow-Pitch Drops Two To Plum On Senior Day
The Lady Tigers hosted the undefeated Lady Mustangs of Plum at MMS on Senior Recognition Day last weekend.
In game one of this doubleheader, NA lost by a score of 15-13. This game was a back-and-forth contest with several lead changes until the Lady Mustangs took the lead late and closed out the win.  During the intermission between games, the following seniors were recognized for their Slow-Pitch Softball careers at North Allegheny:  Co-Captain Carly Kovalchik, Co-Captain Carly Martin, Co-Captain Jordyn Lilienthal, Lacey Stalter, Paulette Rollant, Jordyn Zilian, and Caitlyn McDonough.
In game two, the Lady Tigers came out flat and never got their rhythm going that they had in game one.  Plum won game two, 13 – 3.  Contributing offensively on the day for the Lady Tigers were senior Jordyn Lilienthal who went 3 for 4 with 4 RBI's, senior Carly Martin who went 4 for 5 with 3 RBI's, senior Paulette Rollant who went 5 for 6 with 3 RBI's,  senior Jordyn Zilian who went 1 for 3 with 1 RBI, junior Kayla MacDonald who went 2 for 6 with 1 RBI, junior Julia Lagnese who went 3 for 6, and senior Carly Kovalchik also went 3 for 6.  Defensive gems were turned in by juniors Claire Skirtich and Lagnese, as well as freshmen Abby Birch and Kenna White.
The Lady Tigers hope to rebound quickly as they take their 5-5 record on the road for a weeknight doubleheader vs. their long-time crosstown rival, the North Hills Lady Indians.  Games are at 6:00 PM and 7:30 PM at Herb Field.