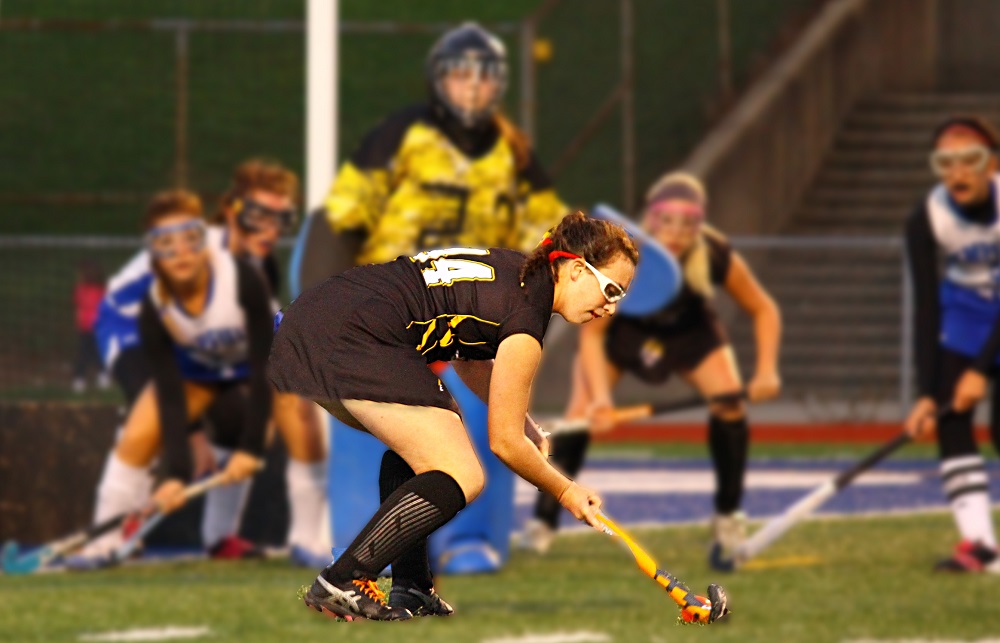 Tigers Smoke Past Hempfield, 7-0
In NA's third section game of the season, the Lady Tigers motored to a 7-0 victory over the Hempfield Spartans on Monday evening.  At the onset, much of the play was maintained within the midfield, but once the Tigers scored about 8 minutes into the contest, there was no stopping them.  Six different players would tally goals as NA refused to allow Hempfield any sustained scoring chances.  Tigers forward, junior Jessica Brandon helped jumpstart the scoreboard as she raced the ball down field toward the Hempfield goal and into the shooting circle.  She then crossed inside to forward, sophomore Maddy Snyder, who handily buried the ball in the Hempfield goal. 
About 11 minutes later, NA senior Briget Zehr would take a backhand pass from fellow senior Bree Monnin at the top of the circle.  Zehr would make a crisp shot from in front of the net to take the Tigers to 2-0.  Junior Nicole Burns would then tally two consecutive goals for the Tigers, the first coming on a shot from several yards inside the circle, after maintaining possession of the ball and dribbling from the fifty yard line.  Her next goal occurred during a penalty corner, off of a pass by junior Kailey Vogl.  Burns would be a factor in the final goal of the half as well, which was also during a penalty corner.  Burns would take a quick shot that came up short due to a great Spartan defensive save.  The ball was chased down by Brandon, who spun back toward the goal while taking an unexpected shot and zipped the ball past a stunned Hempfield goalie.  The Tigers would lead 5-0 at the half. 
Just a minute into the second half, it was still the Tigers running the show, when Vogl one-timed the ball from the left of the net, after receiving a pass from Brandon at the top of the circle.  The final NA goal would come toward the end of the contest, when junior Hannah Downing blasted a shot into the net during a penalty corner.  The Tigers improved their penalty corner scoring percentage with tonight's game, having 3 of 7 goals scored on a corner.  NA used relentless midfield play led by Burns and Downing, as well as creative play by the offense, to tally a whopping 25 shots on goal and force 15 penalty corners.  The win leaves the Tigers undefeated in section play.
NA travels to Norwin on Tuesday for another Section 1 contest.  Game time is set for 7:30 (jv 6:00.)  The Tigers will travel on Saturday to participate in their second Hershey area tournament, The Falcon Classic, facing reigning State Champions Lower Dauphin and either Cumberland Valley or Warwick High School. 
Field Hockey Summary vs. Hempfield
| GAME SUMMARY | | | |
| --- | --- | --- | --- |
| SCORE BY HALVES | 1 | 2 | FINAL |
| North Allegheny | 5 | 2 | 7 |
| Hempfield | 0 | 0 | 0 |
Field Hockey Individual Scoring vs. Hempfield
| INDIVIDUAL STATS | | |
| --- | --- | --- |
| FIRST HALF | | |
| North Allegheny | Maddy Snyder (Jessica Brandon) | 8:13 |
| North Allegheny | Bridget Zehr (Bree Monnin) | 17:05 |
| North Allegheny | Nicole Burns | 19:13 |
| North Allegheny | Burns (Kailey Vogl) | 25:53 |
| North Allegheny | Brandon (Burns) | 27:54 |
| SECOND HALF | | |
| North Allegheny | Vogl (Brandon) | 1:16 |
| North Allegheny | Hannah Downing | 25:19 |