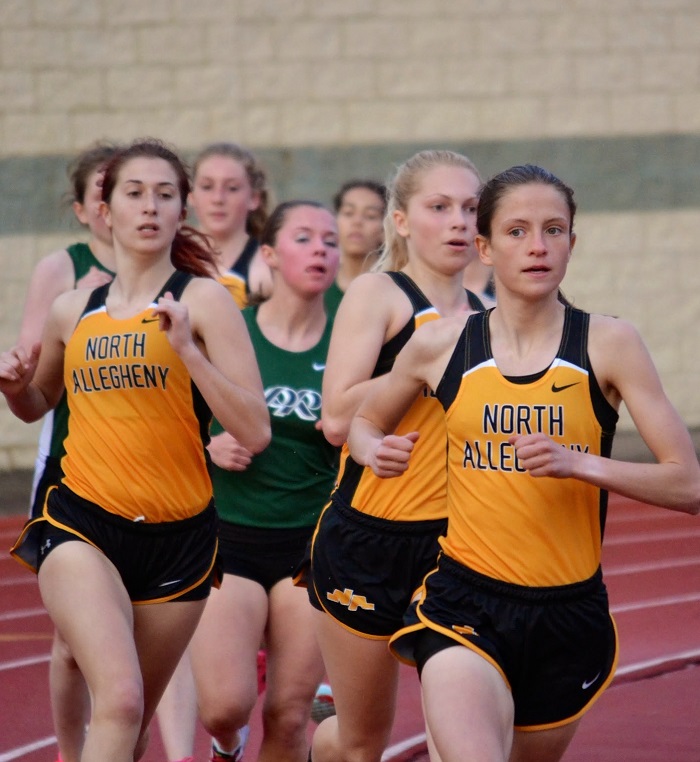 Tigers Split In Season Opener At Altoona
On Wednesday, the North Allegheny Track & Field teams traveled to Altoona for their season opener to the 2015 season.
The girls' team cruised to their first win with a score 110-40.  Junior Madeline Davison and senior Giovanna Cottone led an experienced crew by both capturing double wins for the Lady Tigers.  Davison won the 1600m and 3200m races while Cottone won both hurdle races, the 100m highs and 300m intermediates.  Emma Harvey won the Discus event and placed 2nd in Shot Put.  Outjumping her opponents in the triple jump junior Jolene Yon earned first place honors and also captured 3rd place in the high jump.  Senior Emily Barton won the High Jump and also finished 3rd in the 100m High Hurdles race.
Matched against a powerhouse squad, the boys' team fell short and was defeated by the Mountain Lions, 94-56.  On the track freshman Ayden Owens placed in both hurdle races by finishing second in the 110 Highs and winning the grueling 300 Intermediate race.  The distance crew was led by junior Jake Stupak winning the 1600m and senior Matt McGoey winning the 3200m.  On the field, juniors Andrew Manz and Jared Zieglar both earned first place honors in the javelin and pole vault, respectively.
The Tigers will be back in action on Friday as they host Erie Cathedral Prep and Villa Maria.  Meet starting time is 4pm.