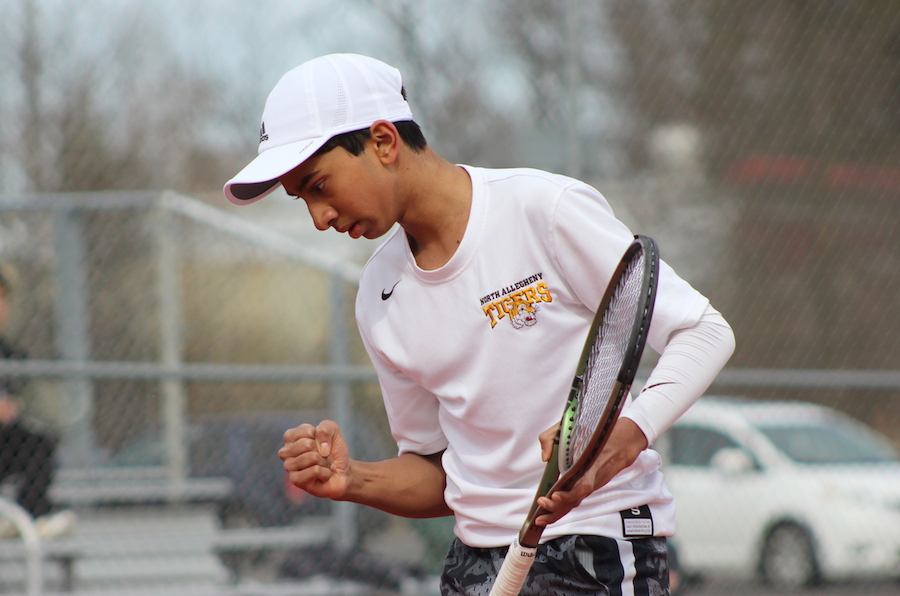 Tigers Start Playoffs With Shutout of Shaler
The WPIAL 3A Boys' Tennis Championships began Wednesday as the Tigers hosted the Shaler Area Titans at the Lakevue Athletic Complex in Valencia to dodge the persistent rain.  When the first-round contest was resolved, the Tigers shutout the Titans 5-0 in a strong performance by all starters, as each contest was decided in straight sets.
The first team point was turned in by the second doubles team of freshmen Matt Kampi and Adhav Ramadas. Team captain, senior Manas Kathir, controlled play at second singles and offered the second team point.  The match-clinching point came from the racquet of freshman Shaun Fernando, making his return to action as the No. 1 singles player for the Tigers.  Junior Amit Bhandari and sophomore Sri Thirumala at one doubles provided the fourth team point.  Rounding out play and securing the shutout, freshman Evan Kaufman took his match at third singles.
With the win the NA Tigers improve to 11-0 on the season and move to the quarterfinal round of the playoffs.  The Tigers host the winner of Thursday's Allderdice vs. Franklin Regional matchup on Monday afternoon, with match time scheduled for 3:30 PM on the NASH courts
Match Summary – 05/03/2023
North Allegheny 5, Shaler Area 0
Singles
#1 Shaun Fernando (NA) def. Will Nebiolo (SA) 6–0, 6-0
#2 Manas Kathir (NA) def. Josh Jashinski (SA) 6-0, 6-0
#3 Evan Kaufman (NA) def. Liam Creagh (SA) 6-1, 6-1
Doubles
#1 Amit Bhandari/Sri Thirumala (NA) def. Nolan Le/Ethan Opiela (SA) 6-0, 6-0
#2 Matt Kampi/Adhav Ramadas (NA) def. Daniel Patel/Trey Grazier/Jude Hamil (SA) 6-0, 6-1