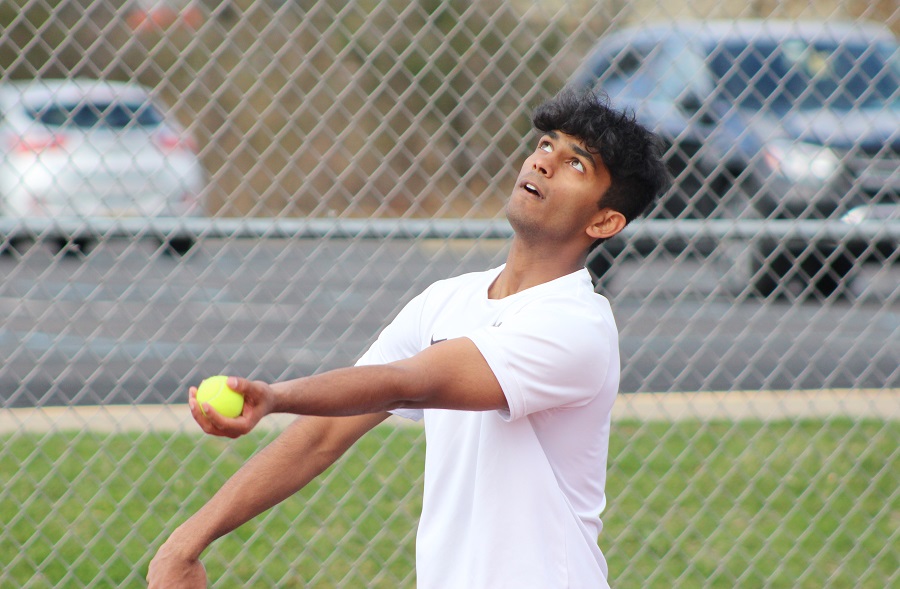 Tigers Sweep Butler Golden Tornado on the Road
The Tigers traveled to Butler Thursday afternoon to take on both the Butler Golden Tornado and tornado-like winds in a Section 2 contest.  The wind swept the courts but the Tigers tamed the Tornado, 5-0.  Winners for North Allegheny in each straight set contest were Chase Davidson, Manas Kathir, and Amit Bhandari respectively at 1,2,3 singles.  Number one doubles was won by Arnav Ranade and Atharva Sumant.  Making their debut for North Allegheny in a points match were seniors Jacopo DiPrato and Kolitha Perera who took a close and exciting match at two doubles.
With the win, the Tigers improved to 6-3 on the season and 5-0 in section play.  The Tigers continue play Friday afternoon when they travel to Hampton for an exhibition against their local AA rivals, the Talbots.   Match time at the Hampton Community Park is scheduled for 3:30 PM.
Match Summary – 03/31/2022
North Allegheny 5    Butler Area 0
Singles
#1  Trey Davidson (NA) def. Andrew Bocci (B) 6-3, 6-0
#2  Manas Kathir (NA) def. Collin Gahagan (B) 6-0, 6-2
#3  Amit Bhandari (NA) def. Clark Stanton (B) 6-1, 6-1
Doubles
#1 Atharva Sumant/Arnav Ranade (NA) def. Xavier Wentz-Raupp/Deagan Moore (B) 6-0, 6-1
#2 Jacopo DiPrato/Kolitha Perera  (NA) def. Ben Busler/Wyatt Morgus (B) 6-3, 7-5