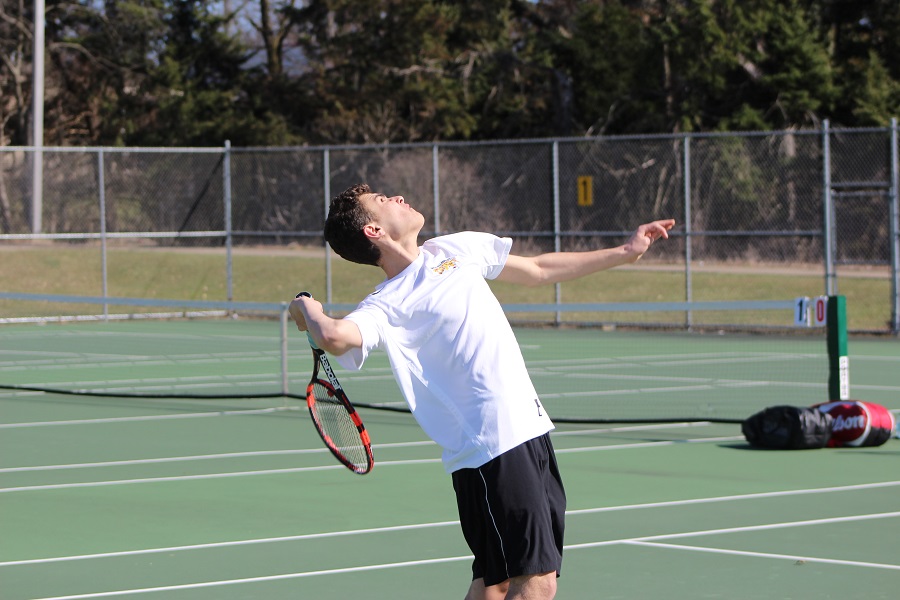 Tigers Sweep Section Rival Pine-Richland
The Tigers Tennis Squad continued Section 2 play Tuesday afternoon, indoors at the Lakevue Racquet Club, taking on the Pine-Richland Rams. The Tigers proceeded to shut down their North Suburban rivals in a 5-0 sweep.
Leading the way in the number one doubles contest, juniors Mark Chuirazzi and Jerry Huang defeated Jason Minicozzi and A.J. Silipo in straight sets.  The second team point came courtesy of senior Ivan Voinov, who defeated Jared Roskin at number two singles in straight sets, without losing a game.  The match clinching point came from team captain, senior Richard Hofmann, who beat Young Kim in straight sets at the number one singles position.  Rounding out the action, senior Andrew Chuirazzi took the measure of Mike Brudy at number three singles.  The number two doubles tandem of senior Reed Stasko and junior Rohan Cowlagi defeated Ethan Chan and Ricky Clavon.  All matches were completed by the Tigers in straight sets.
With the win, the Tigers raised their overall season record to 2-1, and 2-0 in Section 2. The Tigers return to action with more section play Thursday afternoon as they travel to Hampton Community Park to take on the Hampton Talbots.  The starting time is scheduled for 3:30 PM.
Match Summary – 03/27/2018
North Allegheny—5, Pine-Richland–0  
Singles
#1 Richard Hofmann (NA) def. Young Kim (P-R) 6-1, 6-1
#2  Ivan Voinov (NA) def. Jared Roskin (P-R) 6-0, 6-0
#3  Andrew Chuirazzi (NA) def. Mike Brudy (P-R) 6-3, 6-2
Doubles
#1 Mark Chuirazzi/Jerry Huang (NA)  def. Jason Minicozzi/A.J. Silipo (P-R) 6-0, 6-1
#2  Reed Stasko/Rohan Cowlagi (NA) def. Ethan Chan/Ricky Clavon (P-R) 6-0, 6-0