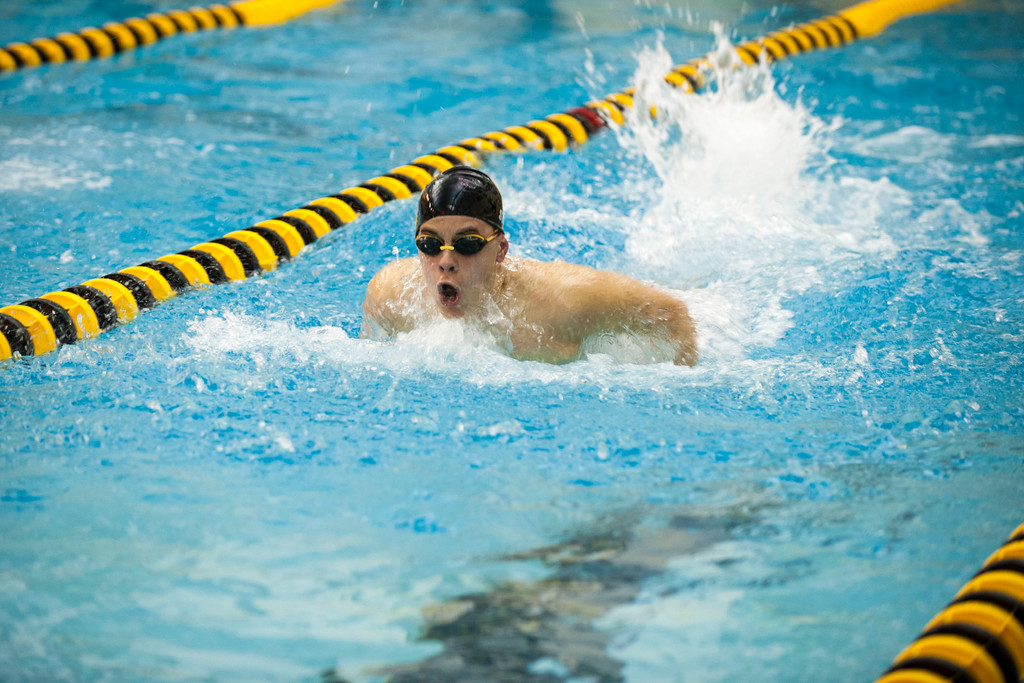 Tigers Sweep USC In First Home Meet Of Season
Seniors Casey Melzer and Morgan Soulia set individual event records as the North Allegheny Girls and Boys swim teams swept rival Upper St. Clair on December 16, 2014 at North Allegheny Senior High School.  The boys defeated USC 109-77, and the girls won 107-79.
Melzer's time of 56:49 in the 100-yard breast was both a pool and school record.  He also finished first in the 200-yard individual medley with a time of 1:51.21 and teamed with sophomores Eben Krigger and Max Gonzalez, and freshman Mason Gonzalez, to win the 400-yard freestyle relay in 3:11.28. Other first-place finishers for the boys were Krigger in the 500-yard freestyle (4:39.98) and senior Greg Arnold in the 50-yard freestyle (21:58).
Soulia's time of 1:52.51 in the 200-yard freestyle was a pool record.  She also teamed with seniors Kayla Churman and Jacquelyn Du, and sophomore Lauren McGrath, to win the 400-yard freestyle relay in 3:33.50. Other first-place finishers for the girls were Du in the 200-yard individual medley (2:08.53) and 100-yard backstroke (54:97); Churman in the 100-yard butterfly (58:24); and freshman Ann Juneau in the 100-yard breaststroke (1:05.47).  The relay team of Du, Churman, McGrath and junior Erin Kuhn set a pool record of 1:45.43 in winning the 200-yard medley relay. Du, who swam a 54.97 in 100 back, broke the pool record of 56.53 that she set last year.
In diving, Andrew Doerfler, Stephen Savchik and Levi Curry finished 1-2-3 for the boys, and Julia Vespoli and Madeline Mianzo finished 1-2 for the girls. Doerfler's winning score was 265.05, and Vespoli's was 255.35. For look at all of the results between NA vs. USC, click here.
The North Allegheny swim teams will return to the pool on Thursday night for a home meet against Shaler.  Start time is set for 6:00 pm.