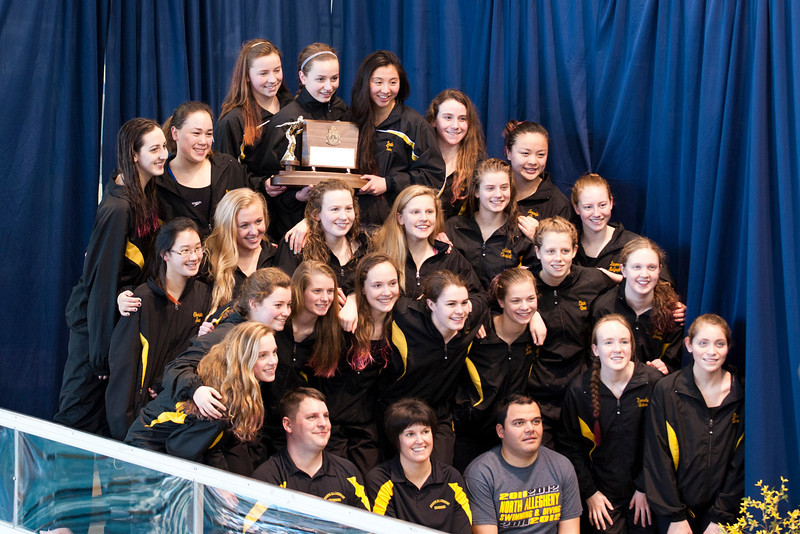 Tigers Sweep WPIAL Swimming Championships
By NA Swim Contributor
North Allegheny Swimming and Diving won WPIAL team titles on Friday as both the Girls and Boys squads delivered some outstanding performances in the pool on Day 2 of the WPIAL Swimming Championships held at the University of Pittsburgh. 
NA Junior Morgan Soulia and Freshman Lauren McGrath started things for the Tiger Girls with solid swims to grab third and fourth place finishes in the 100 Yard Freestyle.  Sophomore Gianna Caputo and Senior Jade Song swam well enough to capture the third and fifth place slots in the 500 Yard Freestyle.  Junior Jacquelyn Du continued her outstanding season with a WPIAL record time of  54.20 seconds in winning the 100 Yard Backstroke while fellow Junior Kayla Churman captured third place in the event.  Sophomore Erin Kuhn captured third place in the 100 Yard Breaststroke, but her time of 1:03.34 was good enough to set a new school record.  The quartet of Du, McGrath, Churman, and Soulia set a new WPIAL standard time of 3:26.41 while winning the 400 Yard Freestyle Relay.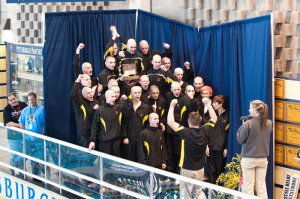 The Tiger Boys performance on Friday was ignited by Senior co-Captains Sam Rutan and Zachary Buerger who raced to a 1 – 2 finish in the 500 Yard Freestyle, Rutan's second consecutive title in this event.  Junior Greg Arnold followed in the 100 Yard Backstroke with an outstanding swim to take second place.  NA Junior Casey Melzer maintained the Tigers momentum with a victory in the 100 Yard Breaststroke which helped give them the margin of victory they would need to secure the title.  In the  400 Yard Freestyle Relay, the team of Buerger, Junior Max Staresinic, Melzer, and Rutan, ensured the victory by touching the wall in second place of an exciting race.  As the lead-off swimmer in this event, Buerger also established a new WPIAL record for the 100 Yard Freestyle with a time of 45.08 seconds. 
Congratulations to the Tigers for their outstanding team performances and success in bringing home the WPIAL titles.  NA now begins preparations for the PIAA AAA Championships to be held at Bucknell University on March 12th & 13th.  Best of luck to our swimmers and coaches!  Hail to the Tigers!
FINAL GIRLS TEAM STANDINGS
1. N. Allegheny 471
2. Mt. Lebanon 189
3. Oakland Catholic 183
4. Latrobe 181
5. USC 179
FINAL BOYS TEAM STANDINGS
1. N. Allegheny 373.5
2. USC 364
3. Mt. Lebanon 235
4. Hempfield 149
5. Franklin Regional 126