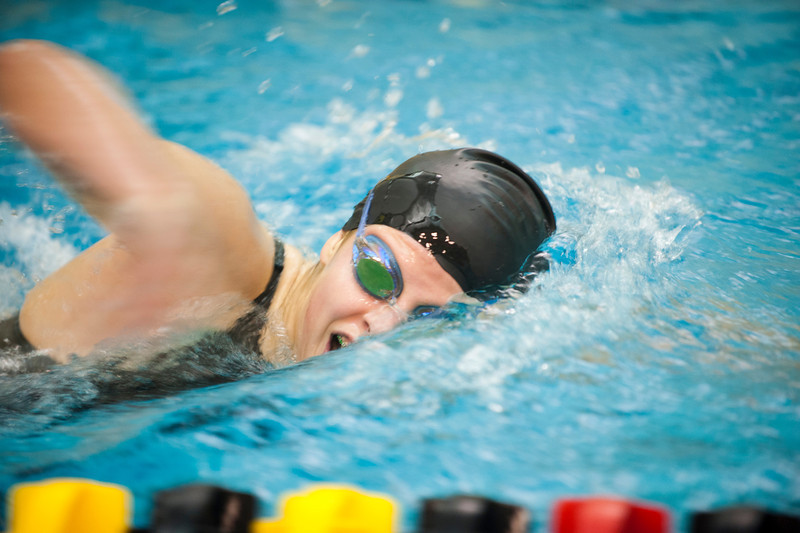 Tigers Take Down Records, Bethel Park
North Allegheny Swimming and Diving emerged from the NASH pool victorious on Tuesday with both the Boys and Girls teams rolling to victory over visiting Bethel Park.  The NA Girls posted a winning score of 96-82 while the NA Boys defeated Bethel Park by the score of 96-71.  In the process, the Tigers set five separate NASH pool records, including a North Allegheny team record.
The Tiger Girls started strong and remained that way throughout the evening.  Freshman Lauren McGrath swam a fast race in winning the Girls 200 Freestyle with a time of 1:56.46, while Juniors Maggie Root and Claire Washabaugh followed in third and fourth place.  In the Girls 100 Yard Butterfly, Junior Morgan Soulia nearly matched a pool record while winning the event in 57.00 seconds.  Sophomore Katie Wright also swam well with a fourth place time of 1:04.58 while Freshman Daniella Torres finished in fifth place with a time of 1:04.60.  The girls capped the evening by setting NASH pool records while winning both freestyle Relay events.  In the 200 Freestyle Relay, the combination of Soulia, McGrath, Senior Kristen Bishop, and Junior Jacquelyn Du set a new mark of 1:36.92.  Later on in the 400 Freestyle Relay, it was Soulia, McGrath, Senior Jade Song, and Du combining to set a new NASH pool standard. 
For the NA Boys, the evening also included some outstanding swims, with Senior Zachary Buerger rewriting three records for the Tigers.  In the Boys 200 Individual Medley, Buerger touched the wall in 1:50.49 in setting a new NASH pool record.  Buerger followed that performance later in the night with a new NASH pool and NA team standard in the Boys 100 Yard Butterfly with a time of 49.54 seconds.  The NA Boys also had a strong performance in winning the 200 Freestyle Relay event where the squad of Buerger, Junior Max Staresinic, Senior Sam Rutan, and Junior Greg Arnold propelled the Tigers to a victory with a time of 1:27.09.  As the lead-off swimmer in the 200 Free Relay, Buerger also established a new NASH pool record for the Boys 50 Yard Freestyle, needing only 21.03 seconds to travel the distance.
The Tigers entertain Upper St. Clair this Thursday night, Dec. 19th @ 6:00 PM at the NASH Pool.