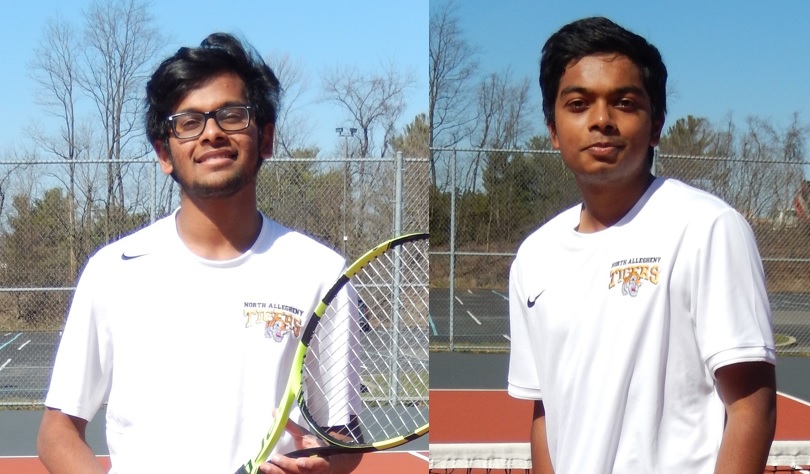 Tigers Tame Moon Area Tigers 4-1 in Section Play
Traveling to Moon Township Tuesday afternoon to take on their mascot counterparts, the North Allegheny Tigers defeated the Moon Tigers 4-1 in an important Section 2 matchup.  The contest was moved up a day preemptively to counter rainy weather on Wednesday, but the wind played a big role in the contest. Each individual match was decided in straight sets, and sophomore Raj Ginde broke through first for North Allegheny at number three singles by beating Alexander Stern, 0 and 2.  Moon evened up the score as their ace, Anthony Lounder defeated senior Chase Davidson at number one singles, 2 and 1.  Next up for NA, the first doubles team of sophomore Sri Bellamkonda and senior Krishna Naik took the measure of Neil Ruppel and Noah Souza at 1 and 2.
The clinching point was delivered by junior Shomik Telang at two singles, in workmanlike fashion, 3 and 3 over Rohan Maheshwari.  Rounding out the scoring parade, senior Greg Phillips and junior Milun Jain paired up at number two doubles to beat Aarav  Surapanenini and Ethan Lisica 6-1 and 7-6 (5).
With the win, the NA Tigers climbed to 6-1 on the season and remain unblemished at 4-0 in section play.  The Tigers continue their stretch of Section 2 competition Tuesday afternoon, April 6, against West Allegheny.  The home match will start at 3:30 PM on the NASH courts.
Match Summary – 03/30/2021
North Allegheny  4    Moon  Area  1
Singles
#1  Anthony Lounder (MA) def. Chase Davidson (NA) 6-2, 6-1
#2  Shomik Telang (NA) def. Rohan Maheshwari (MA) 6-3, 6-3
#3  Raj Ginde (NA) def. Alexander Stern (MA) 6-0, 6-2
Doubles
#1  Srivatsa Bellamkonda/Krishna Naik (NA) def. Neil Ruppel/Noah Souza (MA) 6-1, 6-2
#2  Milun Jain/Greg Phillips (NA) def. Aarav Surapanenini/Ethan Lisica (MA) 6-1, 7-6 (5)