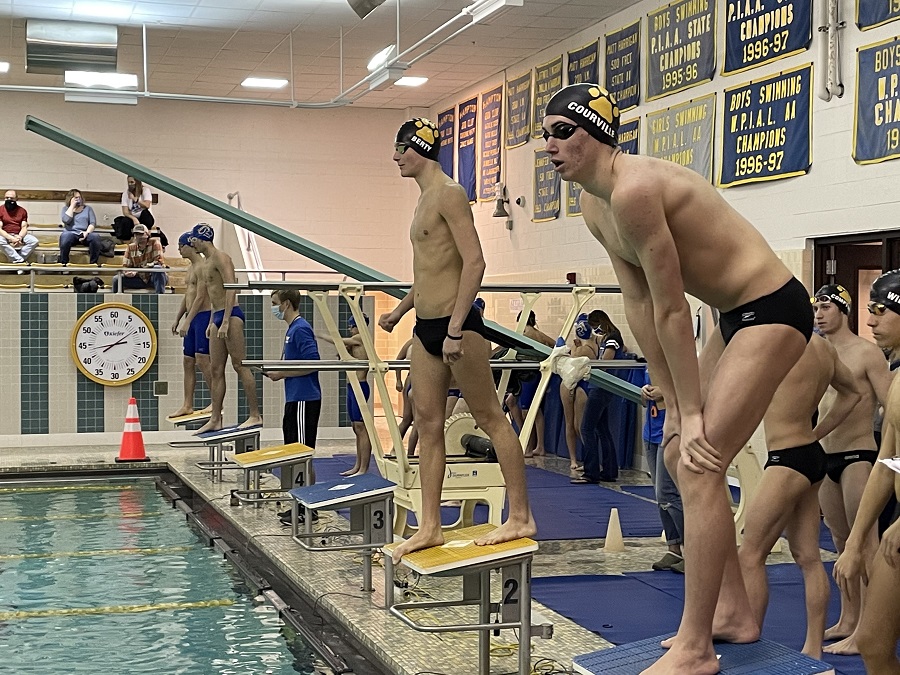 Tigers Top Talbots in Section Opener
North Allegheny Swimming and Diving won its section opener against the Hampton Talbots after a long pause in the season with the Girls team scoring 103 over the Talbots 75 and the Boys winning 98-77.
The girls 200 Medley Relay Team of Greta Mott, Haley Miller, Natalie Sens and Delaney Kennedy officially started the meet and the season, winning the first event.  This was followed by 1-2-3 wins in the next four events, with Molly Smyers touching first for the 200 Free, Quinn Frost for the 200 IM, Lexi Sundgren for the 50 Free and Delaney Kennedy in the 100 Butterfly. Olivia Kisow and Sundgren both touched first in the100 Free and 500 free, respectively. The second relay of the night, the 200 Free Relay, was won by Kara Mihm, Sens, Frost, and Smyers.  Miller completed her events by winning the 100 Breaststroke.  The girls capped off the night by taking the 400 Free Relay, with Sens, Kendall Hanes, Madeline Harris and Brooke Glinski touching first.
For the NA Boys team, swimmers Timothy Compton touched first in the 200 Free, Jacob McCarran in the 200IM, followed by 1-2-3 wins in the freestyle events with William Gao touching first in the 50 Free, McCarran in the 100 Free and Jacob Yaroz in the 500 Free.  Matthew Turzai was the winner in the 100 Butterfly. The 200 Free Relay Team of Compton, Jachary Jubeck, McCarran and Gao finished first to get the win. The last event of the night, the 400 Free Relay, was handily won by the team of Jubeck, Ethan Berty, McCarran and Compton.
North Allegheny Divers Will Schenk and Zoe Ky took first place for the Tigers. Will Schenk and Hampton's Koda Carslaw were tied going into the last dive. It was Will Schenk's inward double somersault that secured the win for the Tigers. Olivia Schenk and Jordan Atkins both did great and placed 3rd and 5th respectively for the girls.  On the Boys side, Lucas Rodgers put together a number of great dives on to place 3rd for the Tigers.
After only a week and a half of practice, the Tiger Diving Team is getting back on track for having another successful season.