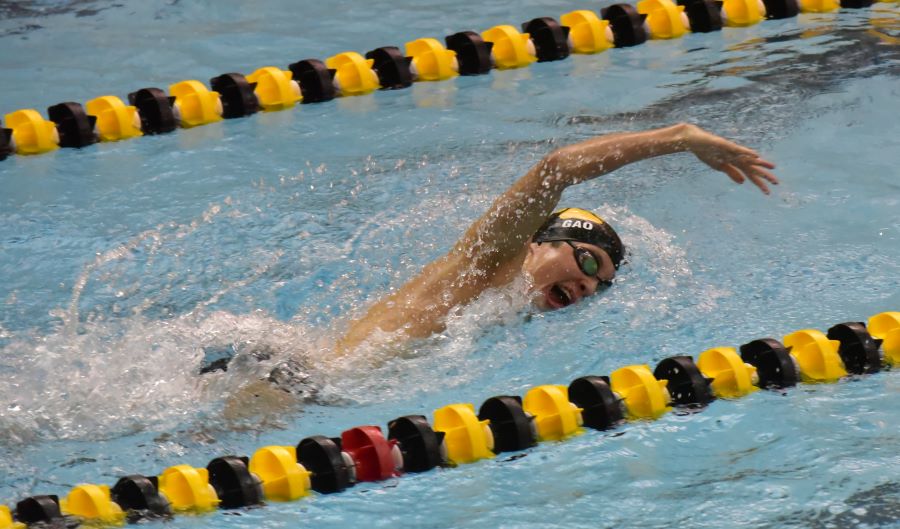 Tigers Top Trojans For Season-Opening Sweep
by Bob Orkwis
The Tigers kicked off the new season with the girls opening defense of their 14th consecutive swimming championship and the boys coming off a third-place finish in the WPIAL meet. North Allegheny won 7 of the first 8 events and cruised to victories in the dual meet, with the girls winning by a score of 89-45 and the boys posting a 92-64 win.
Sophomore Lola Malarky (279.55) and junior Alex Palermo (178.55) won the diving events to start the evening, Christina Shi did not dive for North Allegheny, denying a matchup of two 3-time defending champions going head-to-head as Maggie Foley did participate for the Trojans.
The Tigers girls with the only teams participating and the boys taking the top 2 spots in the 200-yard medley relays got North Allegheny off and rolling. Freshman Emma Dietz (2:03.05) and junior William Gao (1:49.93) captured the first tow individual race wins for the Tigers in the 200-yard frees.
Vivien Li captured the 200 IM before Luke Lamb and Jackson Kress dominated the boys race giving North Catholic its first win.
In the 50 free races, Delaney Kennedy, Madden Woycheck and Shelby Sundgren, followed by Josh Berty, Owen Williams and Caden Currykosky posted sweeps for North Allegheny.
Rebecca Melanson (1:02.71) and Gus Miller (54.61) won the 100-fly races with Woycheck (56.76) and Berty (50.97) taking the 100-free events for the Tigers.
Junior Greta Mott (5:20.60) cruised to a victory in the girls 500-free, winning by almost :23 even though no pints were awarded due to the Tigers big lead. Freshman Mason Shantz (5:13.61) then posted an impressive win in the boys 500-free, besting his seed time by over twelve seconds.
The rest of the night's races played out similarly with points being awarded to North Catholic as both of North Allegheny's teams had accrued enough points to easily secure wins.
The season's first Wright Automotive Players of the Night were awarded afterwards. Mott's dominating performance in the 500-yard freestyle and her great final leg in a 2nd place finish in the 400-yard free relay gave her the honors on the girl's side. And it was the freshman Shantz who won for the boys. His impressive individual showing in the boys 500-freestyle along with a great finish that shaved off almost three seconds in his anchor leg on the 2nd place team in the boys 400-free were enough to earn the award for the boys.
North Allegheny takes to the road for the first time in 2022-2023, as the Tigers will face Bethel Park in a dual meet next Tuesday night.