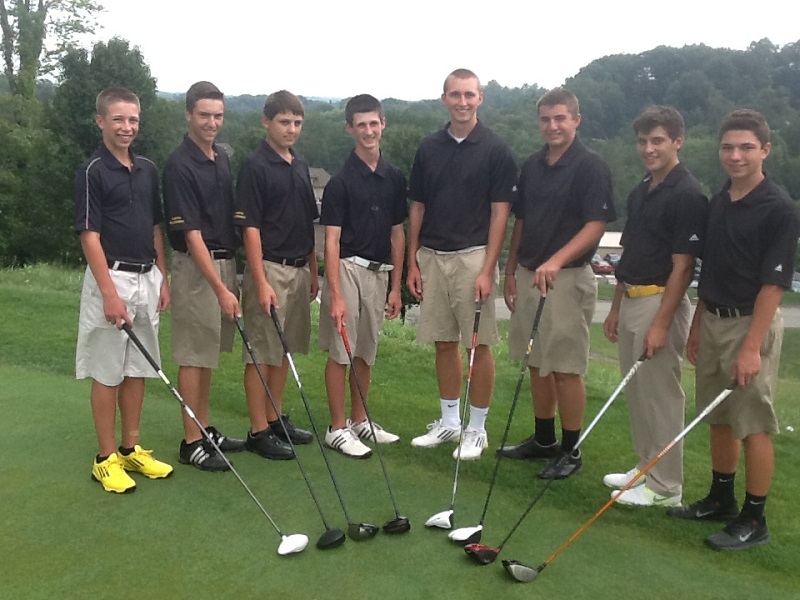 Tigers Tower Over Titans For Section Win
On very wet conditions at Diamond Run, the North Allegheny Tigers defeated the Shaler Titans, 189-221, on Wednesday afternoon for the second straight section victory. The skies opened for a heavy rain over the last portion of the match, but it didn't faze junior Martin Lazzaro who led the way for the Tigers by shooting a par 35. Senior Mike Sudo followed with a 36. Freshmen Ryan Dougherty and David Mrazik scored a 37 and 38 respectively. Junior Nick Longo and sophomore Noah Wessel rounded out the scoring with a 43 and 45. Ryan Ochenshirt was the top scorer for Shaler, notching a 41.
North Allegheny improves to 2-0 overall and in section play with the victory. The Tigers get back to work today with an afternoon match at Butler at 3:30 pm.
Match Summary

NORTH ALLEGHENY - 189
SHALER - 221
NORTH ALLEGHENY
SCORE
SHALER
SCORE
Martin Lazzaro
35
Ryan Ochenshirt
41
David Mrazik
38
Ryan Byers
46
Mike Sudo
36
David Rieg
51
Ryan Dougherty
37
Cam Bildhauer
42
Nick Longo
43
John Romanowski
43
Noah Wessel
45
Nick Cavocini
49
TOTAL
189
221
Josh Huhn
43
Gerad Greco
43
Connor Gingrich
38
Mike Pearson
52